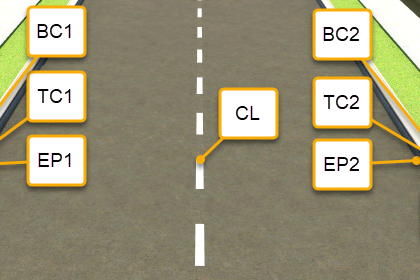 Do you use AutoCAD Civil 3D and contemplate whether to invest in another software for your field-to-finish needs? If changing in software, no one wants a lapse in functionality or productivity. So, what would it look like to switch from AutoCAD Civil 3D to Stringer Topo for field-to-finish?
Linework from the field is generated in CAD from importing points from a file and triggered based on whether the raw code (the abbreviated field description) exists on a linework list in the software. But, sometimes linework represents more than just black lines on white paper. Both AutoCAD Civil 3D and Stringer Topo have the capability of doing other things with linework other than just drawing it. In both applications, the linework list controls several properties of the drawn features. The linework lists are customizable and more than one can be created for varying sets of requirements.
For both applications, to recognize raw codes representing linework, those codes must be entered into their respected linework lists.
Entering the Raw Code in the Field
The raw code is what the field crew uses to identify points collected in the field. A lot of times, when points represent linework, the crew may collect more than one line of the same code. For example, with a two-lane road, points representing linework can be collected in cross section like so:

Notice each raw code is differentiated by a numerical suffix.
Introducing the Linework Lists
In AutoCAD Civil 3D, the linework list is called the Figure Prefix Database because the resulting linework created will be represented by figures. You may create more than one figure prefix database to cover multiple standards and keep them centrally located for use by the team. Figure prefix databases are managed from the Survey tab of the AutoCAD Civil 3D Toolspace on the Figure Prefix Database branch.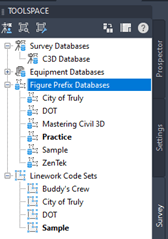 To create a figure prefix database, on the Survey tab of the Civil Toolspace, right-click on the Figure Prefix Database branch and click New. Type in a name and click OK.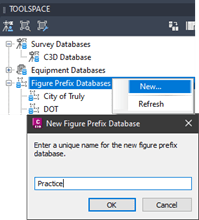 By right-clicking, you may make a copy of a figure prefix database or choose to make one current for the active drawing. Refresh updates the Figure Prefix Database section of the Survey tab. Unfortunately, you cannot delete a database from the Survey tab. You must browse to its location and delete it via File Explorer. You may edit the figure prefix database by right-clicking and choosing Manage Figure Prefix Database.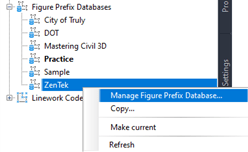 The database contents display in the Figure Prefix Database Manager dialog.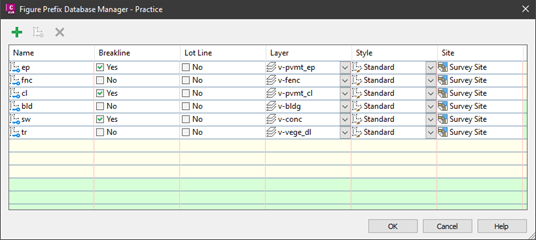 In Stringer Topo, the linework list is called a Survey Line Set Table. Survey Line Set Tables are accessed by clicking Survey String Settings on Stringer's Survey tab on the ribbon. The resulting linework generated is represented by AutoCAD polylines known as strings.

To create a line set table, click Add Table in the Survey Line Set Tables dialog. An empty unnamed table is created for which you may type a new name. You may create multiple line set tables per drawing, but you cannot copy a table. You may centrally locate tables for use by the team by clicking Set as Global. Tables may be deleted in this dialog using the Delete Table button, but this only deletes them for the drawing. The table remains as a global resource and is still available when new drawings are created.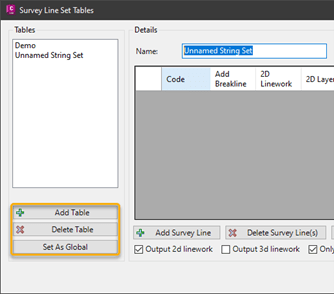 To manage a table, simply click on it in the left pane and edit the contents that appear under Details.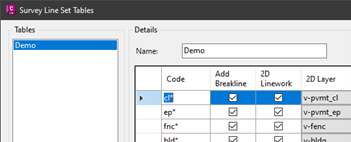 Managing Linework Lists
For both applications, to recognize raw codes representing linework, those codes must be entered into their respected linework lists. Extended properties for each linework code can be configured.
For AutoCAD Civil 3D, the raw codes are entered into the Name column in the Figure Prefix Database. These codes represent prefixes which means it is assumed that differentiators will be entered after the raw code (if needed). Codes can be added, copied, or deleted using the buttons at the top of the dialog.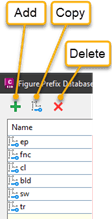 In the Breakline column, you can indicate whether the linework represents breaklines. When codes are configured to be breaklines, they can all be added to a surface with one action using the points collected at their vertex locations as elevations.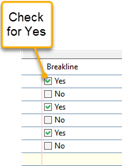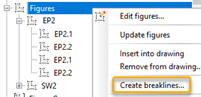 In the Lot Line Column, you can indicate that the linework collected represents a parcel. If the linework closes, then a parcel is created. You can use parcels to keep track of the areas.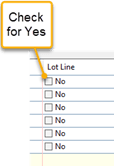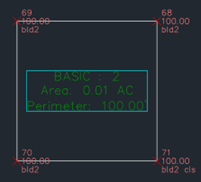 In the Layer column, you can configure the linework to be drawn on a layer to utilize the layer's display properties and to organize the data.
In the Style column, you can employ styles to be used to override display properties set by the insertion layer. For example, you may want all fences to be drawn on V-SITE-FENC, but, you may want wood fences to display using a different linetype than chain link fences. A style can be used to override just the linetype instead of creating additional layers for specific object types. A style can also be used to display a marker (symbology) at vertices and endpoints. So instead of a linetype, you may use a style to show a square at the vertices of a wood fence while utilizing the continuous linetype of the insertion layer. Styles can also be used to flatten linework to a 2D elevation.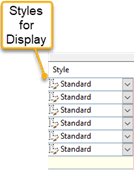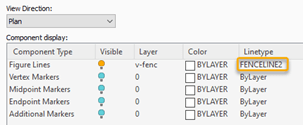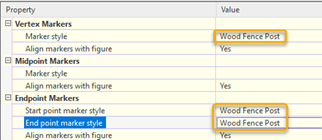 In the Site column, configure a site for your data. If your project is complex, sites can be used to organize data collected on certain days, by certain crews, or to contain certain types of linework.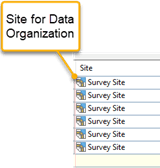 In Stringer Topo, raw codes are entered into the Code column in a Survey Line Set Table. An asterisk must be entered after the code to use differentiators in the field to pick up multiple strings of the same code at the same time. There is a very handy asterisk button that will place an asterisk at the end of each code selected. An asterisk is also used to mark the end of a code; for example, EP and EPD can be used as codes if the asterisk is placed to mark the end of those codes. Codes can be added and deleted, but they cannot be copied. Override Selected allows multiple code editing at the same time.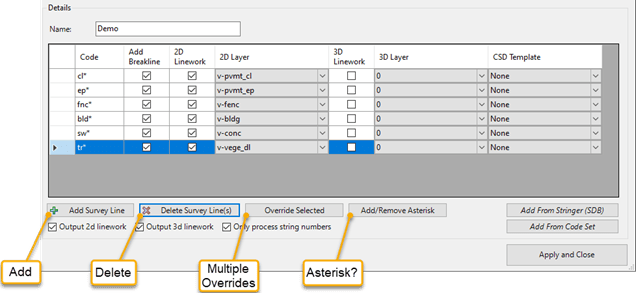 Just like AutoCAD Civil 3D, raw codes can be configured to function as breaklines in surfaces using the Add Breakline Column.

2D or 3D linework creation can be triggered by filling the 2D Linework and 3D Linework column checkboxes. Columns have also been furnished to configure destination layers for either type of linework.

The CSD Template column is a way you can trigger the insertion of a predefined section at that location. This is an alternative to specifying the section as a linework code.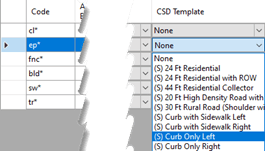 Along the bottom of the dialog are check boxes that override the defaults for processing linework when imported. If you have filled the check boxes for 2D or 3D linework in the list above, unchecking the Output 2D Linework or Output 3D Linework checkboxes here would disable those features. Filling the checkbox for Only Process String Numbers will create strings for codes with numerical differentiators added ignoring codes without them.

Lastly, in the lower right corner are commands for importing codes from an external SDB file (a legacy Stringer file format which is actually an CSV format), or a point code set (used to configure imported points).
This has been a rundown of how linework lists work in both AutoCAD Civil 3D and Stringer Topo. Linework lists are customizable in both applications. Linework can come in as 2D or 3D in AutoCAD Civil 3D depending on the figure style applied; and in Stringer Topo, this depends on what boxes are checked in the Line Set Table. Each code can be configured to generate linework on a particular layer, however in AutoCAD Civil 3D, the display properties of the insertion layer can be overridden using a figure style including the addition of symbology to linework geometry. AutoCAD Civil 3D can generate parcels out of closed objects enabling predefined areas to be created and tracked. But Stringer Topo has some nice features that AutoCAD Civil 3D can't match. Predefined cross section templates can be applied to codes during import. Linework lists can be imported from external files. Both 2D and 3D linework can be generated at the same time on different layers if needed. Switching from AutoCAD Civil 3D to Stringer Topo would not introduce a tremendous loss in functionality and would actually provide more options for generating linework.