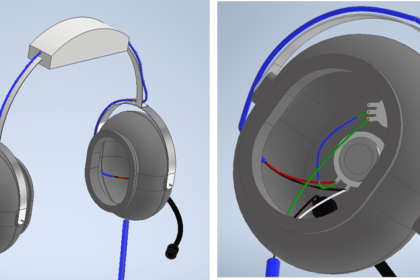 Autodesk Inventor's Cable and Harness environment allows for easy generation of electrical connections in a mechanical assembly. Generating a wiring set is as easy as designating electrical "pins" onto various components and specifying what gets connected to what. The connections themselves can be added by manually specifying a wire from one pin to another, or by deriving connection data from an electrical diagram created in AutoCAD Electrical or connector specification table created in Excel.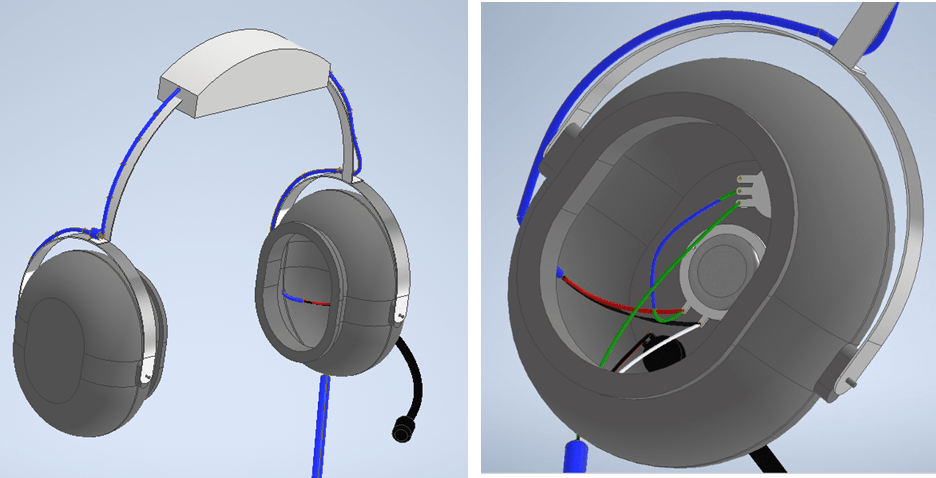 To add pins to your components use the "Place Pin" tool in the Harness section of the 3D Model tab. You may need to turn on that section in your ribbon panel. Use work points to specify pin locations. Using the "Part Properties" tool, you can add electrical specifications to your part, such as the gender of your connector.
Once all pins are placed, you can begin connecting them with wires. You can manually specify a cable or wire by selecting the pins that it connects, or you can "Import Harness Data" from an XML or CSV file.
Now that the cables are in place, it's time to route them. Use the Create Segment tool to define conduits for your wires to follow. You can have multiple wires use a single segment, or multiple segments connect at various points. To route a cable, use the Route tool, specify the wire you want routed, and the start and end segment for the wire to follow. Note that the segments must be connected for this to work correctly. Once you define your segments, you can even route the wires automatically and Inventor will try to correctly determine in which segment your wires belong.

Once your harness is complete, you can use the Nailboard tool to flatten your harness and annotate it. This file is dynamic and will change as you shift components around in your assembly: the wire lengths will adjust and the segments in the assembly will change shape to meet the design criteria. For example, rotating the microphone boom of this headset assembly will move and bend the cables inside it. Using this nailboard, you can accurately determine the length and type of cable and the harness size that your design will require.