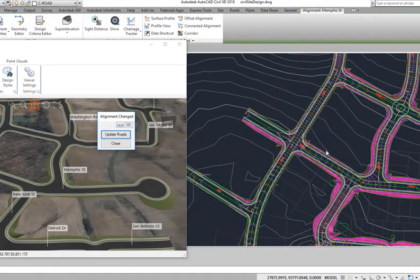 One of the biggest complaints I hear from Civil 3D users is that the process of designing and building road Corridors is just too difficult. Developing alignments, profiles, assemblies, setting targets, frequency and ranges . . . it's too much to learn and it takes too long on most projects. Everyone acknowledges the Corridors in Civil 3D are powerful and turn out great results, if you can spare the time and really know what you're doing. All too often many just have to bypass Corridors for those reasons and handle the road design process manually. Let's not even talk about the headaches associated with intersection and cul-de-sac/roundabout designs in Civil 3D! People would rather gnaw off their own leg than fight with those traps!
Sound familiar?
Listen, I'm a Civil 3D and Corridor expert. I teach classes on it regularly and can do some really advanced things with the process. I like it a lot! Still, I understand where the disconnect lies for the average user. They're caught between the need to get reliable design and get the job completed under budget and on time. It's a Catch-22: you need Corridors to get solid design and make the client happy, but if you use Corridors, it takes too long and you frustrate the client!
I have a better answer!
Civil Site Design is a software that plugs right into Civil 3D and it handles roadway design in seconds! No, I'm not exaggerating! You can go from a drawn centerline of a road, to completed 3D design with just a few mouse clicks. Great, right? (Watch this on-demand webcast to see it in action).
But, wait! There's more!
Civil Site Design can even handle Intersection design for multiple roads (dozens at once if you need it!) with just a single click of the mouse. It also handles cul-de-sac and roundabouts just as easily. Don't believe me? Watch this video to see it in action:
Now, I know some of you are saying: "That's great, but I still need to have a Corridor. I work in Civil 3D and so do my clients/partners!" Fair enough. It's not a concern though – Civil Site Design has a built-in feature to automatically convert its roads into Civil 3D Corridors! It handles all the templating, controls and assemblies for you. Since Civil Site Design is a Civil 3D plug-in, it can even use Civil 3D Alignments, surfaces, etc., for your design needs.
How's that for a powerhouse of a design tool?
Oh, and if you're saying: "I don't use Civil 3D!" No worries. Since Civil Site Design also works in both AutoCAD and BricsCAD, giving you full civil design functionality in the CAD system you already use.
Want to know more about Civil Site Design, or want a demo? Click here to start a conversation today.
– James Coppinger