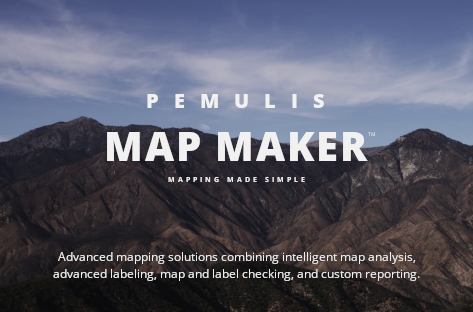 Do you work with land, cadastral, parcel, or tax mapping? Tired of the over-priced, over-complicated GIS systems and want a tool that will let you quickly generate all your mapping from CAD linework and generate reports & legal descriptions automatically?
Pemulis Map Maker is an easy-to-use mapping and platting software with full parcel checking, labeling, and custom reporting capabilities for AutoCAD, BricsCAD, and Civil 3D. Map Maker quickly defines parcels, checks map entities for geometry errors, intelligently annotates parcels, generates tangent & curve tables, and creates custom reports based on your firm's reporting standards. Map Maker can define parcels from lines, arcs, polylines, or from raw map data.
Learn more about Pemulis Map Maker by clicking on the tabs below
Pemulis Map Maker easily controls the four (4) areas all map makers need:
Looking for a tool that simplifies labeling for your AutoCAD Civil 3D parcels, surveys, plats, and maps? Do you want to be able to add full, accurate, labels to your plan just by clicking a parcel name? How about easily adding or converting between labels and tags and using the styles and fonts you want? How about identifying geometry errors or mis-labeled segments automatically? Pemulis Parcel Labeler, a sub-set of the Pemulis Map Maker tools, can be purchased as a standalone feature for those of us who just need better labeling controls for our parcels in AutoCAD Civil 3D.
With Pemulis Parcel Labeler, you can:
Instantly label single, or multiple parcels at once
Identify overall, compound, and individual tangent/curve parcel segments
Apply your own custom label styles
Find and Zoom to individual labels instantly
Highlight individual parcel segments
Change existing parcel labels to your preferred Pemulis style
Identify and resolve geometry errors
Identify and resolve label style errors
Simple, cost effective, and accurate parcel labeling is yours with Pemulis Parcel Labeler and it runs right inside your existing AutoCAD Civil 3D system!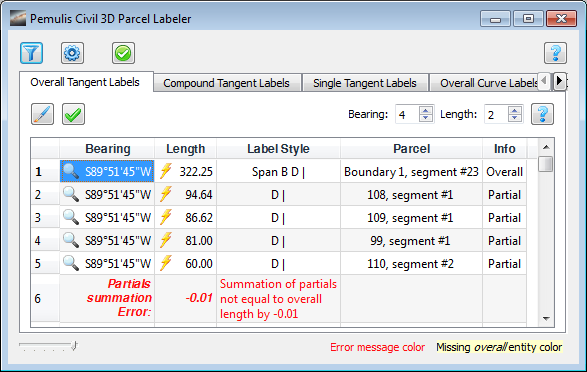 Map Maker Cost & Leasing Information
Pemulis Map Maker is available as an annual subscription for single and network users.
Interested in Pemulis Parcel Labeler and don't need the full Pemulis Map Maker? You can buy the standalone version of Pemulis Parcel Labeler for AutoCAD Civil 3D.
Need to discuss volume discounts, purchasing options or want a formal quotation? Contact us at 866-824-4459.
Products are available for purchase in the U.S. and Canada only.
Leasing is Available
Did you know that you can lease software, training, and consulting services*? Leasing allows businesses to get the software and equipment they need without affecting bank or credit lines. No matter the type of business, you need the proper software and equipment to efficiently compete and flourish. That's why we offer leasing options through Lease Corporation of America.
Why Lease?
Conserve your working capital
Simple application/approval process
Finance installation and training costs in one lease
Potential tax savings under IRS Section 179
$1 purchase option allows you to own the equipment at the end of the term
Quick turnaround times on Credit Applications: Under $150,000 approvals in 2-4 hours with application only; over $150,000 approvals in 24 to 48 hours with submission of tax returns or financials
Fixed monthly payments throughout term
Trade up to new equipment
Competitive finance rates
* Lease pricing starts at $5,000 at a minimum.
Have questions on Pemulis Map Maker or want to schedule a demo? We'd love to hear from you! Contact us in the way that works best for you, and we'll get back to you shortly.
Call us at 866-824-4459
Fill out the form below
Schedule a Demo
Interested in a private demo. Contact us to schedule one.
Try Pemulis Map Maker
Try Pemulis Map Maker free for 30 days.
TEK Bloks
We're here to help you get the most out of Pemulis Map Maker. With TEK Bloks, you always have trained professional support staff available, without disrupting other staff. TEK Bloks are pre-paid support hours that let you call on ZenTek's experienced technical staff to address support issues, questions, and problems.