Get interactive and prioritized QA/QC variance reports within 12 hours!
What we plan, and what we build, are often very different things. A slight variation at the beginning of a job can cause countless delays and cost tens -even hundreds- of thousands of dollars in re-work over the life of a construction project. Something as simple as a footing that's two inches off center, or a floor slab that doesn't have sufficient slope, can stop a project in its tracks for months at a time. Wouldn't it be nice to know those items were off immediately, instead of when it comes time to put in steel that doesn't fit or equipment that doesn't meet level requirements? That's what Solidspac3 (pronounced "solid space") is here for! It matches your planned design against real-world scan data to let you know when there's a problem.
Solidspac3 is a SaaS QA/QC analysis and variance reporting solution that compares 2D and 3D design models to construction site laser scans, identifying construction errors and problems as they occur instead of finding out about them months later, when it cost ten times as much to fix.
Learn more about Solidspac3 by clicking on the tabs below
With Solidspac3, the entire digital construction site - design documentation, point clouds and Variance Reports - are available online for the project team to view, evaluate, and share. Project teams of field professionals, owners, VDC experts, architects, and engineers can access a permissions-based virtual construction site, where they can view the Variance Reports, measure, and analyze the BIM or point cloud, and view 360-degree photos in one application.
Variance reports can be generated for many different trades, such as mechanical, electrical, plumbing, fire protection, structural elements, and floor flatness. These reports show all instances where something has been installed incorrectly while identifying the severity of each issue and providing 360° pictures of the job site.
Owners
Walk through the site, communicate to the team, evaluate the progress and even take measurements, all from a computer.
360°photos for virtual walk-throughs and remote inspection
View, measure and evaluate site from a desktop Accurate BIM as-builts Historical record of pictures, point clouds and BIM for facility management
Builders
Up to 10% of construction costs are due to RFIs and rework which also cause schedule delays. By informing the builder of any deviations from the plans as they occur, Solidspac3 can reduce RFIs, rework, schedule delays and claims.
Simple actionable reports for the field
Rich 3D application for the VDC team
Fast identification of priority issues
A communication platform for everyone
Architects/Engineers
Managing multiple projects with different trade partners can be challenging and time consuming. With Solidspac3, team members have access to the 3D data, pictures and analytics, all from a computer.
Resolve problems and assist the field team with our BIM and point cloud application
Inspect and measure remotely
Single repository for all multi-gigabyte data sets Communicate with the field through the application
Solidspac3 will upload the construction plans, either BIM or 2D CAD drawings
A 3D scan of the existing construction site is performed and uploaded
A Variance Report is automatically generated and made available to all team members
Within 12 hours, our construction analytics engine identifies all discrepancies between what has been constructed and the design plans, and then generates an online Variance Report that can be viewed online or distributed to the field for correction.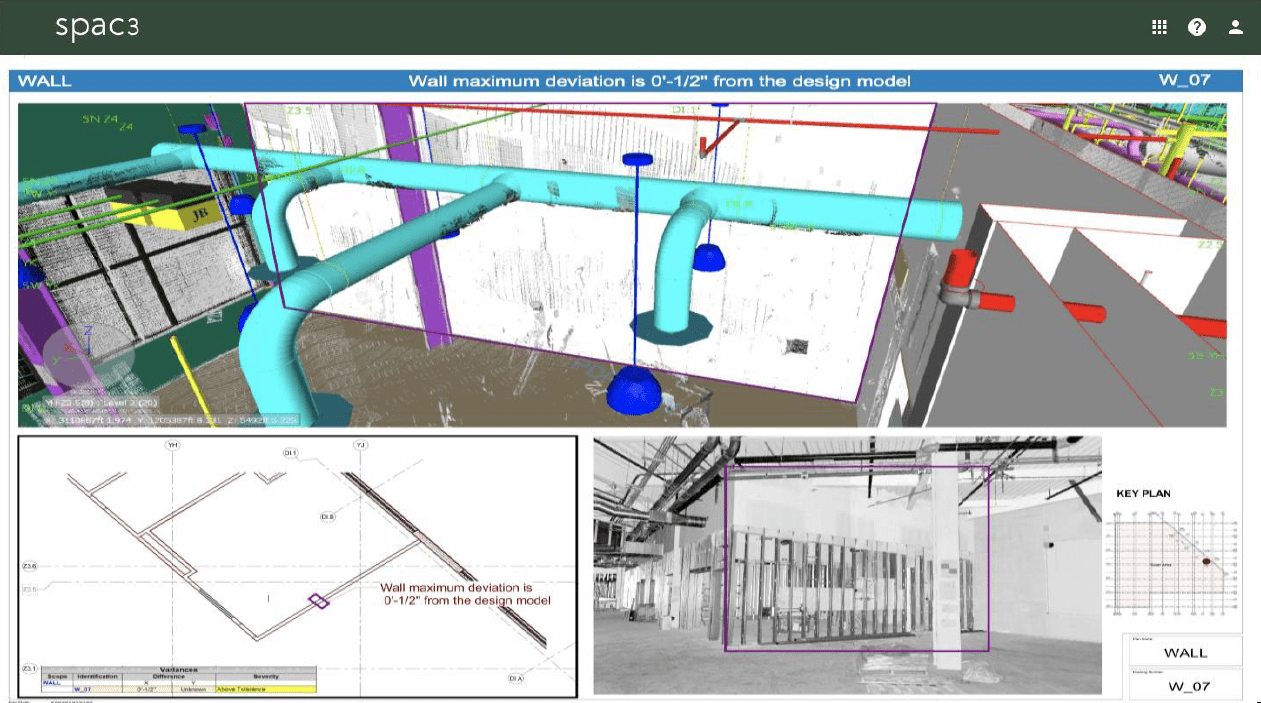 By digitizing the construction workflow with smart analytics, Solidspac3 can help construction firms reduce errors, omissions, wasted materials, and schedule delays resulting in higher profitability on projects and eliminates the risk of litigation.
Solidspac3 helps construction firms:
Reduce rework by identifying potential issues while field personnel are still in the immediate construction area.
Reduce schedule delays
Reduce RFIs and administration costs
Reduce the amount of wasted time and materials due to rework and labor costs
Provide an accurate "As Built" digital twin

Pricing is variable and involves factors such as space of area to be scanned and analyzed, the frequency of scanning, and the number of reports produced per scan. Please contact us to discuss your specific needs so we can provide an accurate estimate.
Have questions on Solidspac3? We'd love to hear from you! Contact us in the way that works best for you, and we'll get back to you shortly.
Call us at 866-824-4459
Fill out the form below