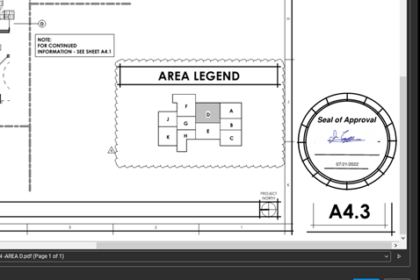 Having spent decades in the A/E design world, I can tell you from personal experience what a nightmare the simple act of signing and sealing construction documents can be. It sounds easy, but imagine having a drawing set of 200+ D-size sheets and you have to generate 50 sets for bid and/or submittal to a reviewing agency. Now imagine you need to do that every week to keep everyone abreast of the latest updates & revisions and that's just one project! The workload around signing & sealing is immense for many design firms. Well, today I want to talk about how you can use Bluebeam Revu to make that job way faster and easier. I will note here that the tools I'm about to discuss do require you to have Bluebeam eXtreme.
There are two basic ways that design firms address the signing & sealing issue: some will print hundreds of sheets, then have the professionals sign each copy individually, while an assistant applies manual seals afterward. Yikes! I did that back in the 90's and it took countless hours. Most firms now have gotten away from that because most states in the U.S. allow for digital seals now (thank goodness!), so they will print the drawing with the e-seal already in place and then they can have the signing professional add their signature after printing. You're still faced with two choices here. First, you can have the engineer sign every printed page manually, which still takes forever. Second, you can have them sign one full set of documents and then you can scan those to PDF and print out as many copies as needed. The second option is much faster, but it does have its own problems. You'll need to have a large format scanner for construction documents (which isn't cheap) and you'll also run into resolution issues. At the end of the day, a scan is really just a picture of your document, and the resolution of the scanner is going to seriously impact final output. In other words, those fine lines that show existing conditions, etc. are going to print far thicker and darker than they did on your original plot, making the plans more difficult to read. This is something everyone in the A/E space has struggled with.
Bluebeam offers a better option. Print your design document right to PDF (which maintains the line thicknesses, etc.) and then use Bluebeam Revu to add both the seal and signature to hundreds of drawings at once. Basically, Bluebeam can reduce hours of work to under two minutes. To make this happen:
Go To BATCH > SIGN & SEAL on the Revu eXtreme drop down menu.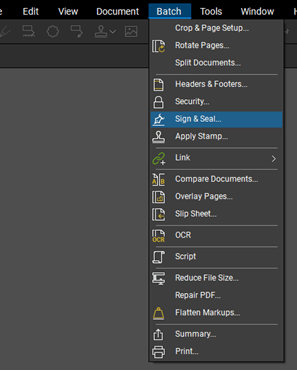 In the dialog that comes up, use the ADD > Folder button to select the folder containing the PDF files of all your design documents. (Note: you can select individual FILES and/or sub-folders as well).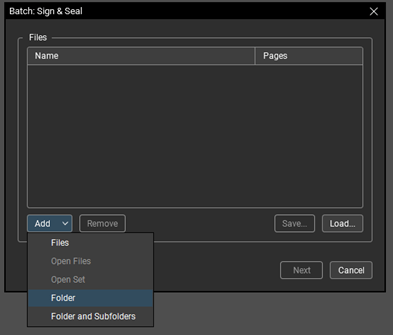 Bluebeam gives you a list of all the files selected and gives you the opportunity to select the sheets (pages) in each PDF you want to include in the sign/seal process.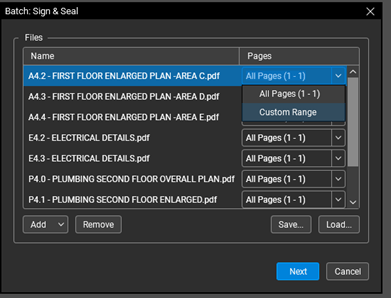 This opens the Batch Sign & Seal dialog, where you can set the digital signature and the appropriate seal that you need on the left-hand pane. Revu places a copy of each on the first plan, which you can move/re-size as needed to their appropriate location on your border. I've highlighted these in yellow in the image below.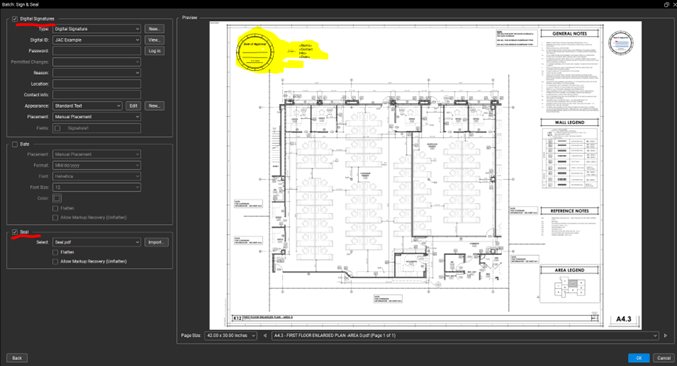 Just move these two items to where you need them on the 1st plan and they're automatically copied to the same location on every page.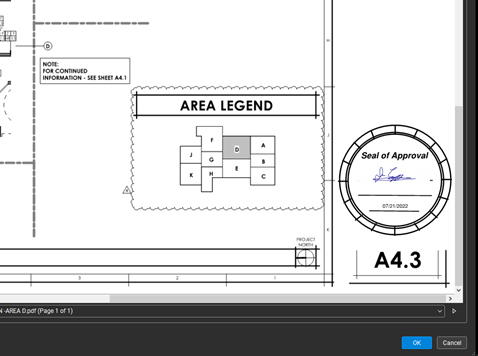 From there, you just hit "OK" and all your PDFs are updated with signatures and seals, while maintaining the full resolution of all your CAD linework.
It's that easy. Bluebeam does in minutes what used to take hours!
– Jim Coppinger