TekFlow for Government and Public Facilities
What is TekFlow? It's an open and ongoing conversation on best practices for using the technologies you already own and work with every day in smarter, more efficient ways. This video series focuses on the ways ZenTek has been working with our clients in the Government and Public Facility arenas to optimize their internal workflows, share their data with the public, and dramatically reduce the time and effort it takes to develop and access their data, all while using software you likely already own.
TekFlow for Government and Public Facilities will focus on how you can use digital dashboards and simple PDF tools to organize and find the data for your facility/organization with simple, graphic interfaces that can be adapted to any use. We'll talk about how to organize security, contact, life safety, educational, and even space/lease/inventory systems into intelligent graphic systems that will work for anyone, without the need to purchase/install extensive software systems. These processes are ideal for schools, airports, municipal buildings, hospitals, restaurants . . . whatever public spaces you deal with, we're going to show you better ways to manage and control them with simple technologies.
Please let us know in the comments if you find this information beneficial, or if you have a tip to share.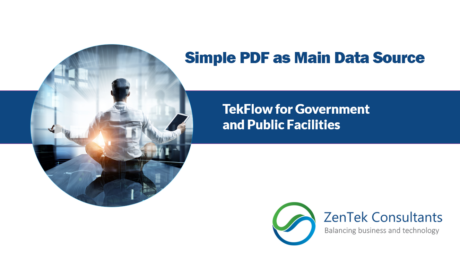 Implementing 3rd party ERP and data/document management systems to control the workflow for your public facility is expensive, time consuming, and license restrictions will limit who can access your data