Procore Analytics is a process for integrating all the Procore data you use on a daily basis, with the Microsoft Power BI solution, to turn your construction jobs into visual powerhouses instead of the endless, dry, tedious tables and forms we're all used to dealing with. Imagine all your costs, schedules, and budgets showing as charts and graphs, that update in real-time, right inside Procore, without you needing to do anything!
Need to know how far over budget or behind schedule you are on a given job? No problem. Need that same information cumulatively for all your projects? Done. How about who's your most/least profitable subcontractor or which PM brings their jobs in on time most often? Which sites have open safety issues, or which ones have the longest response times for RFIs? All simple to show in charts and graphics that you can easily understand with Procore Analytics.
Procore Action Plans
One of the biggest issues that GCs face all the time is "accountability". There's a real struggle in making sure your people are performing tasks they're supposed to, notifying others when they're done, and even just knowing what steps they're supposed to take for completing a given task.
That's where the Procore Action Plans come into play. The Action Plan module in Procore lets you build Templates for standard workflow processes, then apply the appropriate ones to each of your projects. Action Plans can provide written instructions for each workflow step, connect to standard forms you need filled out, even provide direct links to Procore records like observations, incidents, or inspections. You can even enforce sign off and approval requirements to each step, ensuring staff is performing the way you need.
ZenTek Consultants helps develop, format, distribute, and optimize all your Procore Action Plans to ensure your internal control processes are being followed for each job.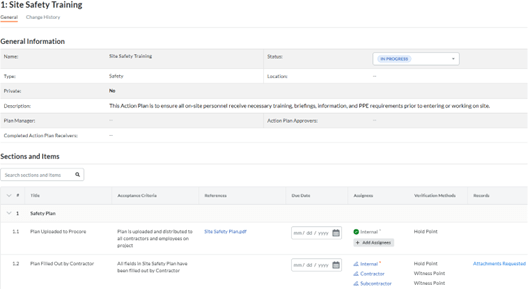 Custom Reports
The key to Procore success is consistency in data, and that means having reliable reporting. The default Procore reports are a good starting point, but for most of us they don't meet our corporate standards and accounting detail needs. There are always calculations and metrics we need that don't seem to be available in Procore. ZenTek Consultants helps our clients develop the custom fields, formulas, and report outputs they need for efficiency.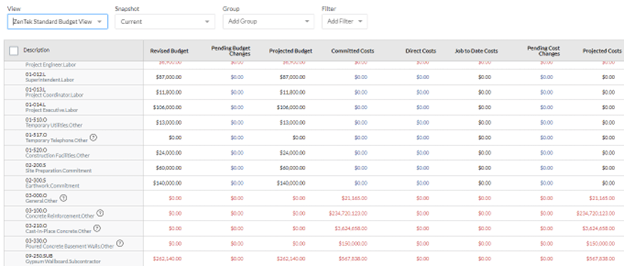 Company Level Configuration and Settings
Procore is a powerful system that lets you standardize your construction workflow processes, but the first step is building the back-end standards for those workflows. Cost Codes, Directory Access, User Permission, and dozens of other settings for your company need to be set for effective use of Procore. As a Procore Certified Consultant, ZenTek can structure your entire Procore system to your company's specific needs.
Templates, Cost Codes, and Fieldsets
The key to Procore success is consistency. Getting everyone working the same way, with the same defaults and the same templates and options is the best way to be consistent on every project. Building and distributing those standards effectively can be a time-consuming process that takes your people away from billable work. ZenTek Consultants can take that load off your hands and build/distribute all your Procore standard templates and settings for you.
Bulk Data Imports (Users, vendors, codes, punch items, etc.)
We all have large databases of existing clients, vendors, punch lists codes, etc. that we want available for selection by employees in Procore. Getting that information structured and imported can be time consuming and frustrating. ZenTek Consultants can configure and import any Procore data sets that you need.
Company Level Directories and Distribution Groups
In Procore, it's vital to have everyone you work with (clients, vendors, workers, etc.) defined and with the appropriate permissions and access controls set. You may even want to build internal or external distribution groups to automate updates and changes on a wider basis. ZenTek Consultants can structure your Procore environment with all these settings and more, freeing you to stay billable while we handle the configuration.
Document Structures and Permissions
Default project folder structures and applying folder level permissions are a powerful component of Procore. Deciding who can see which files/folders and edit or update them is at the heart of project controls in this environment. ZenTek Consultants can work with you to configure all this, in the exact manner you need.
Pre-Qualification Setup
Whether you're looking to build vendor lists for invitation or customize your pre-qualification Forms, ZenTek Consultants can help. We can structure custom distribution lists for trades. If you need specific insurance or financial info to ensure qualified bidders, we can help you structure the Procore process to pre-qualify the companies you invite to bid on your job.
Bidding Setup and Administration
Setting up plan rooms, tracking correspondence or change history, updating bid files, and integrating all that with your bidders list can be frustrating. ZenTek Consultants can structure your pre-construction bid process and even help you update and track respondents on a project-to-project basis.
Drawing & Specification Uploads and Revisions
From initial upload of bid & support documents through revision updating and control, Procore can handle it all. But if you're not an expert, it can be problematic to handle the constant changes and notifications that occur on your projects. ZenTek Consultants can help you handle initial uploads and format of project files and even work with you to address updates and revisions over the project lifecycle.
RFI, Meeting, & Submittal Templates
These are all automated processes in Procore, with standard templates that end users can choose from to save time, effort, and ensure all appropriate data is collected on your projects. Finding the time to set all these templates up on each job can be difficult. ZenTek Consultants can handle all the setup for your projects and recurring processes.
Create Bid Packages
Just organizing all the documents, drawings, specifications and support information that goes into a bid package is very complex and time consuming. Pushing all that up to Procore for your bidders and users to access, while vital to your project's success, can take a lot more effort than many can spare. ZenTek Consultants can take all your bid data and put it into Procore to ease your management concerns and free up time for you to focus on the project itself.
Project Level Directory Structures
Every Procore project requires a different set of vendors, companies, workers, and contacts that you'll need to work with. Pulling them from the company-level database or adding new contractors to the company, and your job, can eat up a lot of your time. ZenTek Consultants is here to take that load off your hands so you can focus on running your project.
Create Custom Report & Dashboards
What's done and what's not? Which tasks are over, or under, budget? Where have you spent the most money and whose bills are overdue? Project management requires having extensive data at your fingertips. Spending hours trying to pull the data each time you need it, for every job, isn't cost effective or easy. ZenTek Consultants can help you build your own custom reports and dashboards, showing exactly the data you need, that can be updated in real time and re-used on every one of your projects.
Field Reports (Logs, Incidents, Inspections, Observations)
Collecting field data and pushing it back into Procore is a vital part of this powerful tool set but you need to ensure that the field staff have access to the correct templates and options to get you the data you need, in the most efficient manner possible. ZenTek Consultants can help you configure all your field and mobile templates to have your field personnel entering only the data you need, in the format you want.
User & Vendor Account Setup
You deal with hundreds of clients, companies, vendors, suppliers, and others on every project. Ensuring that their information is correctly input, available, and all the appropriate permissions set for each of them is a time-consuming task that can have severe consequences if not done correctly. ZenTek Consultants can handle that workload for you, building, enabling, and maintaining your account databases so they're available and correct on every project.
Crew & Worker Setups
Timesheet entry and approval in Procore requires the creation and maintenance of personnel records that integrate with the Procore Mobile application. ZenTek Consultants can help you set up and manage these individuals on both a company and project level basis.
Timesheet Configurations
Getting crew and workers time data input correctly and accurately is a vital component of the Procore financial system. Making sure they can enter and update their time in only the manner that you want so it works correctly with Procore is vital. ZenTek Consultants can create and customize all your timesheet templates and configurations for you.
Time, Budget, & Production Reports
Finding out who's regularly working overtime, how productive your workers are, and how much work's been done on a specific task can be an invaluable tool for a project manager. ZenTek Consultants can help you build customized reports to track and visualize all the time and effort being applied to your project, in the manner that you need to see it.
Want to know more about how we can help you get the most out of Procore? Give us a call at 866-824-4459 or simply fill out the form below with your specific needs and we'll get back to you shortly.