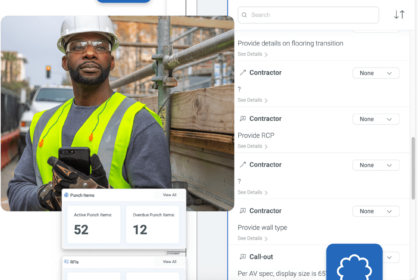 So, just a few weeks ago, Bluebeam, one of my favorite software systems in the whole world, announced the release of Bluebeam Revu V21. Most importantly, that release incorporates an entirely new tool called "Bluebeam Cloud". Some of you may know it by its beta name of "Project Rover" but Bluebeam Cloud is the formal release and integration to your standard Revu V21 licenses, and it's targeted almost 100% at the construction field. That make sense since close to 90% of construction firms in the U.S. are using Bluebeam Revu every day.
So, what exactly is Bluebeam Cloud? Well, it's a cloud-based, lightweight construction project management system that addresses the daily operating needs of smaller GCs and subcontractors. Now, when I say "lightweight" I don't mean Bluebeam Cloud isn't powerful, I mean that it's focused on doing a few key items very simply and very well. Look, big PM systems like Procore, Sage, and Viewpoint are great systems but they're very expensive and they try to handle every aspect of the very complicated world of construction management, which makes them difficult to learn and effectively use on smaller jobs. Bluebeam Cloud takes a different approach. They've chosen to focus on simplifying the most common tasks construction firms need to work with, and struggle to control, every day: RFIs, Submittals, Punch Lists, and drawing markups and communications. All of these items are automated, structured, and responses to each are tracked and recorded directly in Bluebeam Cloud. Sounds cool, right?
Let's talk about each process:
Markups & Communications: You can upload PDF drawings from any source (local drive, servers, Bluebeam Studio, SharePoint, Google Drive, etc.) right into Bluebeam Cloud and have them available for use, right inside your web browser. You can log in from any machine, anywhere, anytime, even one that doesn't have Revu installed and markup/review files. That means you can access files from your phone, iPad, Android or any other phone or tablet. As part of the Bluebeam Cloud markup tools, you can also communicate about specific markup right in the browser. There's an entire "Discussions" side panel where you can leave comments, others can reply back, and everyone can get notifications when a comment's directed at them. Project creators can even get automated notifications for when fields are accessed and edited, which is really nice.
RFIs: When there's inconsistency between the design, and what needs to happen in the real world, we need to submit RFIs to get clarification. This is something we do every day in the construction world but tracking what questions were sent, when, from who, to who, and what the answer was, can be a nightmare. We can easily spend half of each work week just fighting thru piles of RFIs on a job. Bluebeam Cloud lets you click one button, fill out an RFI form, select who to send it to, right from the field, on any device. Bluebeam Cloud tracks dates, times, responses, sends reminders, and keeps a record of all communications related to that RFI in one spot. Not only that, but once the RFIs been answered, you can drop an RFI marker, right onto the corresponding location in the plans. Anyone can click on it to see the results of every RFI, right in place, as the job progresses. It's a very simple process, that takes less than a minute to create.
Submittals: Bluebeam Cloud lets you create and track Submittals. Submittals are a variety of specs, cut sheets, part lists, and drawings that list exactly what materials and parts are being used for a given project by each subcontractor. These require review and approval from the GC, designer, or owner and there can be a lot of back/forth on the specifics of materials and manufacturers for every item on your job. Bluebeam Cloud has made this a simple, linear, automated, tracking and response process right inside your browser. You can even import Submittals in bulk, using an Excel template. This way, if you still have subs who don't (for some reason) handle their submittals through Bluebeam Cloud, you can just list it all in Excel, and import them all in one step.
Punch Lists: Bluebeam Cloud also has an entire punch list/walk-thru process, built right in, that ties directly to your construction documents. You can create detailed Punch Items, with attached photos and notes, then submit them to responsible parties and track all communications about them. You can even go right to the location of the issue on your plans and just drop a symbol onto the drawing that's automatically linked to a Punch item, with a single mouse click. When the Punch Item's been resolved, you just mark it complete, and it gets submitted back to the Item creator for approval. Once approved, the symbols on the plan are "greyed out" to show they've been complete, but they can always be clicked on, to open the Punch Item, for reference. It's a remarkable simple process to help control what's always a coordination struggle on our construction jobs.
Overall, Bluebeam Cloud is an amazing new addition to Bluebeam V21, that we should all be looking into.
– James Coppinger