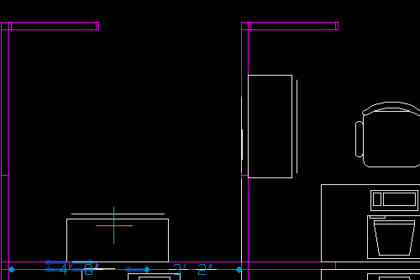 How many steps does it take you to Copy a simple object in CAD? Whether you're copying a set of miscellaneous entities or a block, the default "Copy" command forces you to copy the object, then manipulate it to the correct orientation by flipping/rotating, and finally placing it in its final location. Sometimes, you're not even done there, and you have to adjust the geometry around it by trimming or extending lines to accommodate the copied object. That's at least 5 steps, all for one duplication!
Thanks to BricsCAD's "Copy Guided" tool this process can be much simpler. Copy Guided is an intelligent tool for not only copying a set of entities but also positioning them and fitting them into place. This tool works by detecting both the objects to be duplicated, and the geometric references for positioning, all in a single selection window. Here's how it works:

Similar to default copy, Copy Guided starts off with selecting the objects you wish to duplicate. The important distinction here is that we are also selecting the references for positioning our duplicated object. Carefully place your selection window, ensuring that your objects to be selected are fully inside the window, and any object crossing the window will be used as a reference. Once you are done, hover over the area you wish to place your duplicate and see your object rotate into position.
An important note to working with reference objects is that BricsCAD will use every object crossing the window as a reference and try to match the destination exactly. For instance, if your reference contains three parallel lines, the duplicated object will only snap to a similar location with three parallel lines. When placing your object if you don't see a snap preview, go back and reselect your reference objects.
As a bonus, Copy Guided can detect objects such as doors, windows, and conduits that cause breaks in the lines representing your walls. Repositioning these objects typically requires a series of trimming and extending to match the "break" to the feature. Copy Guided can do that for you – just make sure to include all your wall features in your selection. When placing your duplicate, the lines that are in the way will automatically be trimmed to fit your object.