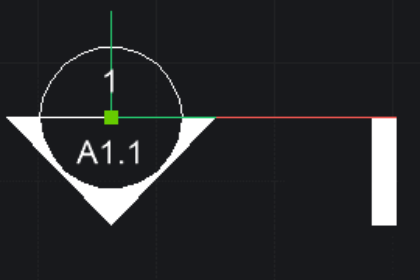 Part 3: Adding a Flip Parameter
A parametric block is a type of block with special properties that, when adjusted, transform the geometry or presentation of the annotation or symbology represented. Akin to dynamic blocks in AutoCAD, parametric blocks take fewer steps to set up. The benefit of setting up parametric blocks is having one symbol that can adapt to varying displays without having to explode it to make it work.
In Part 1 of this blog, we looked at adding a stretch parameter to a section cut block. Then in Part 2, we added a reference curve parameter. Today, we will take the same block and add one parameter that will cause it to flip along its vertical axis and another that will flip along its horizontal axis. Even though the Reference Curve parameter in the previous blog caused the block to flip on insertion, adding a flip parameter will enable it to flip any time after it has been inserted.
Open the block in Block Editor.
From the Blocks panel of the 2D Parametric ribbon tab, click the bottom half of the Blocks button to display its options. Then click Flipline.

To flip the block about a vertical axis:

Pick on the insertion basepoint of the block in response to the Start of Line prompt.
With Ortho engaged, pull the cursor directly vertical in an upward direction in response to the Set End Point prompt.
Enter VerticalFlip as the Flip Name when prompted.
A parametric line gets created on the FLIPLINES layer. This layer is locked and may be turned off or frozen to prevent its display.
Repeat steps 1 – 4 to create a horizontal flip, pulling directly to the right on step 3 and entering HorizontalFlip as the Flip Name.
Close the Block Editor by making the Block Editor ribbon tab current and clicking Save Block.
Select one of the inserted blocks. Notice two additional parameters on the Properties panel.
Change the HorizontalFlip setting to Flipped and notice that the text does not mirror.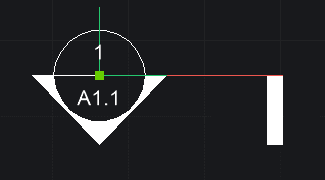 Using blocks with the flip parameter enables the block definition to be mirrored about an axis. As noted with the stretch parameter, this allows us to avoid exploding symbology to force annotation to work. We can also avoid creating and maintaining varied duplicates of the block in our libraries which keeps our block libraries lean. Overall, parametric blocks help us to work smarter and efficiently.
– Cyndy Davenport
Give BricsCAD a try. Download the trial today.