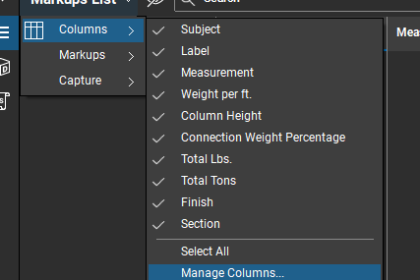 I'm always amazed at how many people work with Bluebeam Revu to handle their QTO (Quantity Takeoff) from the PDFs of project construction documents, and still take the time and effort to manually extract that data out to a product like Microsoft Excel. Sure, Bluebeam can do this, but once you do you need to go through a time-consuming, manual process of calculating costs & fees and adding in support and reference info to your takeoff. Now, I'm sure there are folks reading this right now who do this all the time and are thinking "Well, yeah – but that's what we have to do!" Well, the reality is you don't need to do that at all.
Bluebeam Revu has the built-in capability to handle not just your QTO but all of your pricing, estimating, labor, and information detailing needs. It will do all of this directly, and dynamically react to changes of your takeoff items in the QTO. In other words, if you add more wall plates or extend/shorten a duct run, not only are your lengths, but all the linked pricing, etc. is updated in real-time, with no additional effort on your part. Bluebeam has the capacity to build custom formulas (just like Excel!) that will calculate anything you like, from material weights to purchase/labor costs, order tracking, etc. You can even create drop-down lists to change sizes/materials, weights, and such. Try doing that easily in Excel.
You can add custom columns quickly, by going to MARKUPS LIST> COLUMNS > MANAGE COLUMS and on the "Custom Columns" tab. Add a column name and select the type of field(s) you want to add and go to work. The beauty here is that you can do this in any version of Bluebeam – you don't need any special upgrades.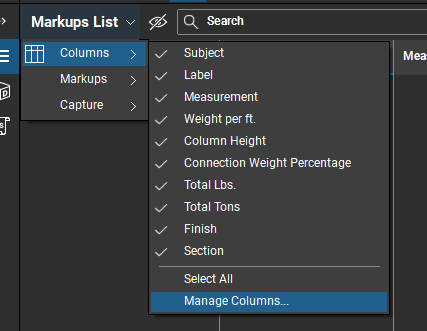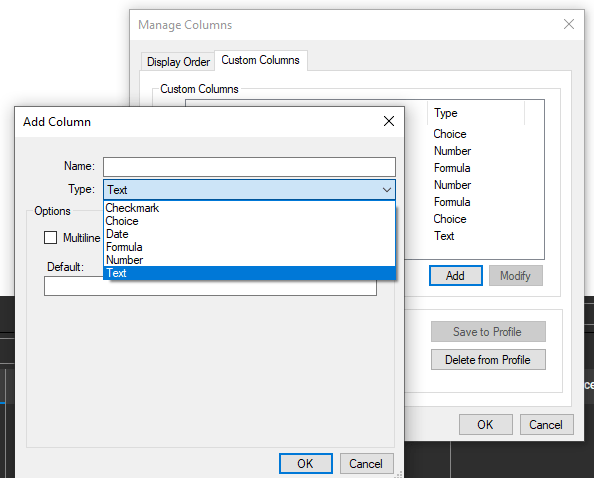 Accessing Custom Columns
Anyone can do this, for any type of work. You can even save these Custom Columns as XML files that can be structured for different types of processes (estimating, project management, design review, etc.) then just share the XML from a central network location, or email it to someone, and they can import it into their active PDF and have all the customizations you've built. It's a very easy process. It's really just a question of if you have the time to do it on your own or if you need to hire a consultant.
A good example of how this works is in our ZenEstimate Tools, which are tool sets for Bluebeam that handle both QTO & estimating in one step, using pre-defined symbols from industry-specific tool sets. Below is an image of the output from our ZenEstimate Steel tools, which shows that you can change sizes, costs…anything simply and have Bluebeam do all your calculations for you automatically.

ZenEstimate Steel Tools
If you're still thinking that you need to get things out to Excel, or another program, for delivery to clients and others who don't have Bluebeam, no worries. All this data can be exported, just like you've always done, but now you won't need to edit that Excel workbook at all. You just export from Revu and send it off. All your labeling, ordering, and costing is completely done for you as you're using Revu tools and symbols. This can be a huge time and cost savings for you.
Want to learn the details on how to set this all up? Catch one of our Bluebeam Revu for Takeoff and Estimating classes. We offer them in both generic and industry-specific versions.
– James Coppinger