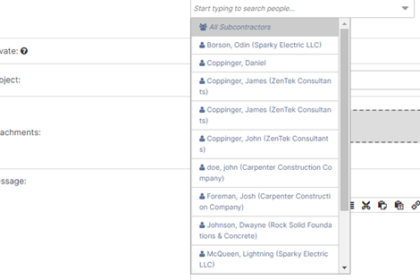 Emailing is one of the primary communication methods for construction projects. Procore has useful tools that streamline many construction processes, including emailing. One tool in particular –  distribution groups in Procore – allows you to easily send an email to potentially hundreds of users with just a few clicks after the initial setup. You don't need to copy and paste emails, or type several email addresses each time.
Prior to starting, your contacts along with their email addresses need to be entered into the directory for your project in Procore. Here is a tutorial on how to add a contact. You will also need to have Admin permissions for the Directory tool.
Go to the project for which you would like to add a distribution group and select Directory under Core Tools.
In the right side bar, click on "Add Distribution Group."

A new window pops up, asking you to name the group. Enter a Name the group and click Create. For this example, I've named it "All Subcontractors".
A new page asking for the final details displays. Add a description for your distribution group. Then add in the emails/contacts for the group. This is a one-time setup for your project. See Step 6 for adding & removing emails from a distribution list after it has been created. Once all the contacts are added, click "Update". You can click the red X to remove emails that shouldn't be included.

Your distribution group is now created. From there, you can go to RFIs, New Email, Submittals, Contracts, and other tools and use your distribution group. The screenshot below was taken from the Email tool.

To add or remove contacts from a distribution group, go to the Directory tool. At the top of the page, click on "Distribution Groups" as shown in the screenshot below. Click "Edit" next to the group you want to change. From there, follow Step 4 for adding or removing emails.

Distribution Groups are available in most major email platforms such as Outlook and Gmail. However, one major benefit of setting these up in Procore is that anyone on the Project Team can use them without additional setup, saving time. Now you will always have the same group of individuals to who you can easily send emails and other vital project information.
Another benefit to using distribution groups is that it allows coworkers who may not be familiar with your project, such as administrators or interns, to assist in contacting and  emailing individuals. As opposed to sending a coworker a list of names and emails in an Excel document or email, they can easily go to the distribution group and send emails to all subcontractors, project managers, or stakeholders.