Accessing Your Bricsys Account
You can access your account by clicking the My Account icon in the upper right corner on the Bricsys web site.
The page gives an overview of your:
Personal details
My organizations
Licenses and support contracts
Support requests
Invoices and payments
Mail subscriptions
How to add Organization Info
Add info from your Bricsys account
Log into your account on www.bricsys.com.
Click your name in the upper right corner.
Select My Account.
Click Add your organization. An automatic search is performed based on your email domain and the found associated organizations are listed.

Click + Join on the desired organization and continue.

Note:


- After joining an organization, the user status is Unauthenticated employee of that organization. A verification mail is sent to the admin of that organization to approve or reject the employee request.
- To disassociate from a joined organization, click the Remove button next to the organization's name.
If your organization was not found, click Add a new organization.
Fill in all required fields, marked with '*'.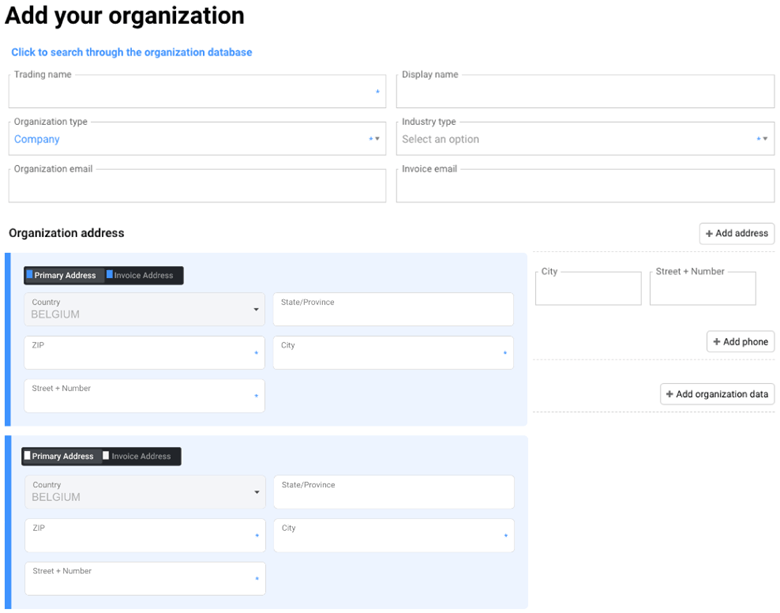 Once the details of the newly added organization are saved, the user can purchase from the E-Store. The first contact buying for a new organization will automatically become admin.
Once you set your organization, you can ask for a role (the assignment will be performed by the organization admin).
Possible roles within the organization
Admin: Can buy from E-Store on behalf of the organization. Can invite/set roles members of organization.
Financial Manager: can buy from E-Store on behalf of the organization.
Employee: can see Support Request of all organization members (not yet implemented).
Rejected Employee: user who rejected the organization invite.
Unauthenticated employee: can see his own Support Requests.
License Manager: manages the licenses in his organization (not yet implemented).
Admin area
In My account, a My organizations section will appear.
Admins can invite/manage roles for other organization members.
It is possible to add/correct organization data.
The VAT number will automatically be checked against the expected number for the selected country.
It is not mandatory to be part of an organization, but it will restrict the possibility to buy from the E-Store. Users that are not part of an organization will have to contact Back Office to buy on their behalf.
Being part of an organization but not having an Admin/Financial Manager role will also restrict the possibility to buy from the E-Store. A purchase request can be sent to your administrator to purchase it for you.
Where can I change my mailing subscriptions
Your mailing subscriptions can be managed under My Account on the Bricsys website. You can access your account by clicking on your profile icon in the upper right corner of the Bricsys website.
In the menu on the left, click on Manage your mail subscriptions. Here you can check/uncheck the newsletters or release mails you like to receive.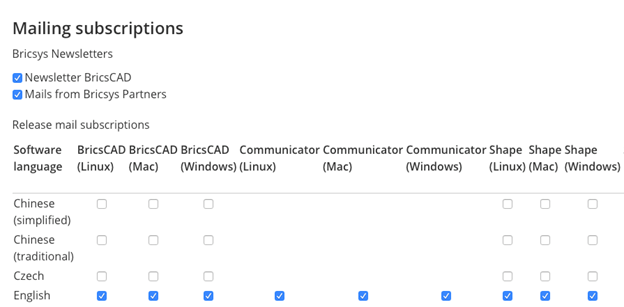 How to solve 'this email address already exists'?
Symptoms
You would like to register on the Bricsys website but you receive the message This email address already exists.
Cause
One of our partners has registered you as a customer or prospect with this email address.
You or somebody else have already registered this email address on the Bricsys website.
You are using a CAD product that is built/based on our BricsCAD OEM solution (BSB) which is using our licensing system.
Solution
Reset your password using the Forgot username/password? link on the log in page.