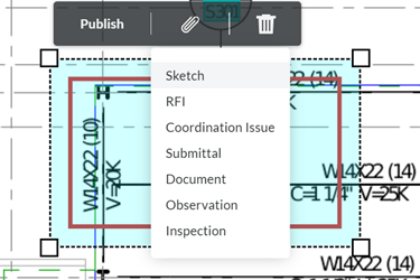 Have you ever been walking a job site with your drawings and walked into an area where an RFI was discussed, but there are potentially hundreds of RFIs to search & scroll through? Drawings in Procore have the capability to link details and other sheets but you can do the same with RFIs, documents, submittals, and so much more. Allowing your field team to seamlessly transition from the floor plan to the RFI without having multiple steps and menus to navigate through can save time and headaches.
Linking information to a particular drawing in Procore is very easy.
First, open the drawing, go to the markup box and select the one that works best for your scenario. Please note you can change from cloud to a square or circle as the icon you want to display for the markup. While you can create RFIs doing this, documents, submittals, and a few others will already need to be uploaded in Procore. The below photo shows the default location of the Markup tools.

Once your preferred markup is selected, click & drag to place it where you want. You can adjust the size after you placed it by selecting the handles. After the markup is drawn, a paperclip should appear above it. If it doesn't, select the markup by clicking it.

Upon clicking on the paperclip, you'll be presented with a variety of items in which you can link to the document. Select the one you would like to link. Depending on which is selected, a search bar or item selection may appear. Just search or select the item you wish to link and click done.

Now there is one more extremely important step so everyone else can look at the linked markup. Select the markup again and click Publish. Without this step, only you can see the markup and the attachment. However, if you just want to link items for your own personal use, do not click Publish.

Now you can click on the markup or to have it open your link! This simple set of steps saves a tremendous amount of time on projects that have a lot of documentation. Some important information and documents you want to link outside of RFIs could include Door Hardware submittals, product shop drawings, and owner cut sheets for coordination.
A few other tips for a successful project:
Ensure all your markups of a similar type – use the same color & formatting. An example is to have all RFIs in red (like in the example above), submittals in green, and documents in blue. This should be consistent across all projects.
You may need to update user permissions and folder structures to allow everyone to access a certain document you attached. If your company has private folders in the Documents tool that are only for your company, try creating a new folder outside of that and attach the appropriate documentation.
You can link multiple documents, RFIs, and more to the same markup.