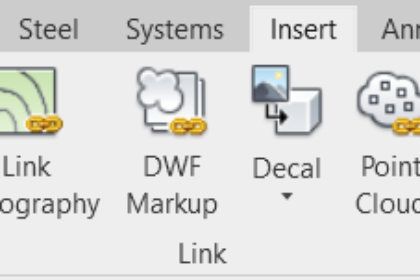 Linking files into Revit can be a complicated task if unmanaged. Setting standards for links in Revit projects can help alleviate disorganization and frustration when collaborating with multiple team disciplines.
For simplified referencing for Revit models, it is important to establish a Project Base Point before starting a project. The Project Base Point can be found under the Site category in the Visibility/Graphics Overrides for a plan view. This may or may not coincide with the Survey Base Point. Communicate with team members regarding the coordinates being used or the relation of the building to the Project Base Point.
Use the Link Revit Option on the Insert tab, Link Panel to link a Revit project. As long as both projects use the same Project Base Point, insert the link using the Auto – Project Base Point to Project Base Point option in the Import/Link RVT dialog box. Using the Project Base Point will eliminate the need to move the model once it is loaded into the project. This can be said for any origin point used to link the project, however the Project Base Point does not have to be tied to any particular coordinates.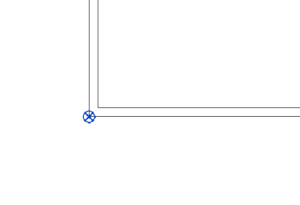 Figure 1 – Walls Set at Project Base Point

Figure 2 – Project Base Point Option for Inserting
Other file types that can be linked into Revit using the Link CAD button include DWG, DXF, DGN, ASCII SAT, and Sketchup files. Link Topography requires the Autodesk Desktop Connector (separate download) to link Civil 3D files via BIM 360. Point clouds can also be linked into the Revit project, although file size can become an issue. Navisworks (.nwd and .nwc) files can be linked into Revit for viewing and coordination using the Coordination Model button. All of the previous can be found on the Insert tab.

Figure 3 – Insert Tab – Link Panel
The Manage Links button opens a dialog showing all files that are linked into the current Revit project. There are separate tabs for Revit, IFC, CAD Formats, DWF Markups, Point Clouds, and Topography. Links may be unloaded for easier temporary project navigation and performance, and reloaded without losing the link integrity. Links that are "removed" will no longer reside in the model and will need to be re-linked manually.
Importing CAD files is different from Linking CAD files in Revit. Imported files become a part of the project and lose their connection to the source file. If the file is updated, those changes will not show in the Revit project.
When using links in Revit, consider using Worksets if the model will be shared. In this way, visibility as well as access can be controlled globally using Worksets without the need to unload/reload the link.

Figure 4 -Visibility/Graphic Overrides for Links using Worksets
Links can be useful for coordination, however too many links will slow down a project. Consider only loading links that are necessary as needed, and unload links when not in use.