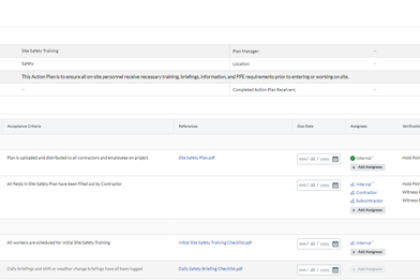 As a Certified Procore Consultant, ZenTek deals with a lot of General Contractors using the Procore Project Management system. One of the biggest issues that folks bring up to us all the time is "accountability". There seems to be a real struggle out there in making sure that people are performing tasks they're supposed to, notifying folks when they're done and even just knowing what steps they're supposed to take for any given task. A lot of Procore features have some basic workflows built-in, but that's not what most of us need. We're really looking for a way to tell our people: "Hey, this is what you need to do to make sure we're compliant with Safety Training" or "This is the process for tracking site visits" or any one of a thousand other processes we need followed that are specific to our company.
This is where the Procore Action Plan tools come into play. Not familiar with them? Don't worry, I'm always surprised by how many folks don't know about or use Action Plans. The concept is easy. You enable the Action Plan module in Procore, build some standard Action Templates, and then apply the appropriate ones to each of your projects. The Action Plan can provide written instructions for each workflow steps you need followed, connects forms you need filled out, and even provides links directly to Procore records like observations, incidents, or inspections. You also can enforce sign off and approval requirements to each step, to ensure folks are actually doing what you need them to.
Let's look at a quick example. Below is an Action Plan for Site Safety Training that's required for all employees/contractors to complete before they can access the construction site.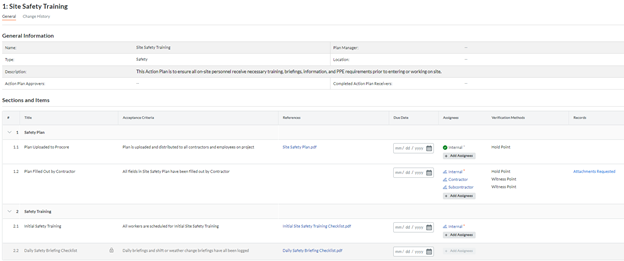 Note that it's essentially a written workflow, with attached forms, due dates, and assignees who need to sign off (i.e., contractors), and internal "approvers" to verify completion before the workflow can move forward. In addition, there's a Change History tab on each action Plan that summarizes every event and who approved and signed off on each step.
At the end of the day, Action Plans give you the ability to create a number of pre-defined workflows, specific to processes you need followed, and apply them to each of your projects. The struggle of explaining to people what steps need to be taken, verifying what's been done or hasn't, even training new people to move forward in the company food chain are all easily addressed by Action Plans. From the Company Level Admin tool, you can go to ACTION PLANS on the sidebar and create templates for use by employees and subcontractors at any level. The nice thing is that these can be easily filtered and sorted using standard Procore tools so creating dozens of templates doesn't become confusing. You can even add a "Type" field to the templates for things like Safety, Electrical Inspections, Close Out, etc., to make it easier to group plans into easy-to-find (and apply) categories on your jobs.

Just click the "Create & Add Sections" button to start building your plan in a tiered, outline format to direct each and every step along the way. You can even force hold and/or witness points to get specific people or trades to approve steps.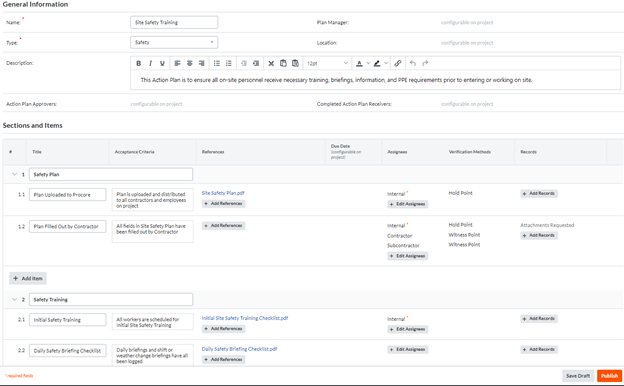 From there, just PUBLISH the template and it becomes available for use on every one of your jobs under the PROJECT > ACTION PLANS section.
Action Plans are one of the best ways I've ever run across to ensure corporate compliance and timely completion of necessary steps and benchmarks on a construction job.
– James Coppinger