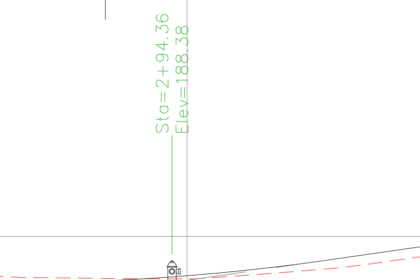 I've been working in the Civil world for decades and one of the most frustrating and time-consuming things we all run up against is that moment when the boss asks you to draw above ground items in the profile. We all roll our eyes and groan silently because we know that it's going to take an hour to "Just quickly drop that fire hydrant into the profile, so I can see where it is." Profiles are auto-generated and dynamic with surfaces these days, but above ground items aren't. They require old fashion, manual, drafting work.
Do they though?
What if you could just "drop it in" like the boss asks, in just a few seconds, with no headache? You can, using the "Project Object to Profile View" tool. It's a simple feature that lets you drop any block or C3D object (points, feature lines, etc.) from the plan, right into your profile. To begin, you need to create a Projection Style (under Toolspace > General > Multipurpose Styles) that will show the type of items you want to project in their elevation state. For example, the hydrant the boss wants, like so: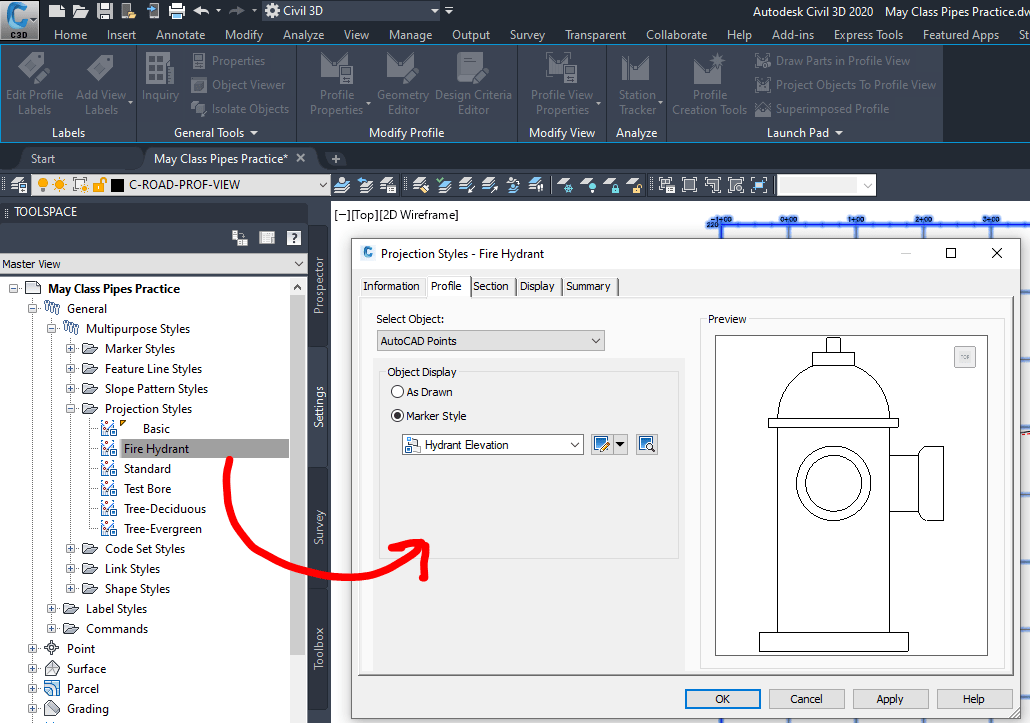 Projection Style – Fire Hydrant
This is really nothing but an AutoCAD block that we want to show in our profiles. I suggest building several common projections (hydrant, mailboxes, utility poles, etc.) that you might regularly need into your template files. The key is matching the elevation symbol up with the Station/Offset of our road from the plan view. That's where the "Project to Profile view" tool comes in. To start it, click on any Profile View (grid) and select the command from the ribbon bar as shown: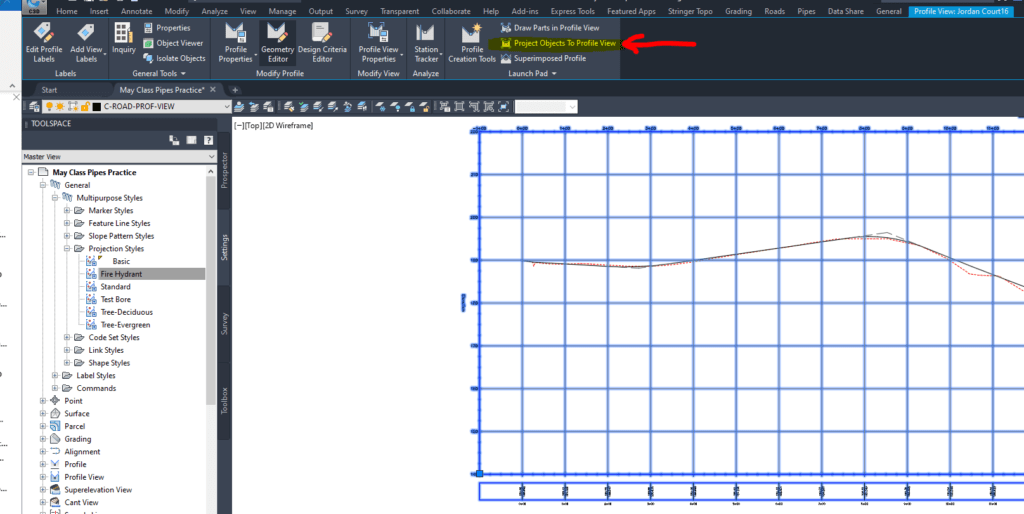 Project Object to Profile View Command
The program asks you to select your objects (in the plan view) to project. For our example, I'm going to grab a fire hydrant. Once I select it, a dialog comes up (see below) asking me to set the values for the projection. I can set the STYLE column to our "Fire Hydrant" projection style from above and in the other columns I can choose the ELEVATION OPTION to have the block come in tied to a surface or a set elevation (I'm using the existing "EG" surface here). I can even choose the LABEL STYLE to show the elevation/station, etc., in any format I desire.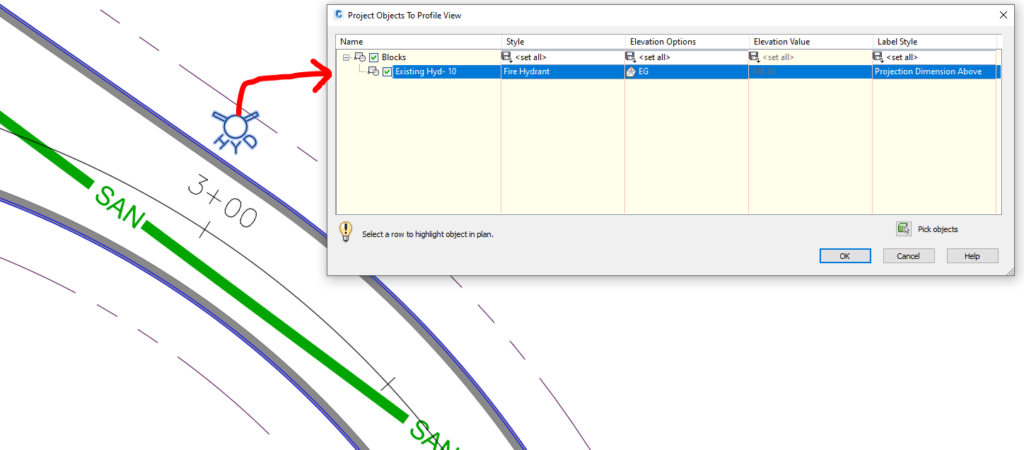 Project Object to Profile Dialog
Once I set my option and say "OK" the block is displayed, and labeled, inside my profile (see below). Oh, and I know it may look like the elevation is off – after all, it's not showing the hydrant on the dashed red line that is the EG profile line, right? Well, remember, this hydrant is 10 or so feet to the left of the centerline of the road, which is what the profile is showing, so even if it looks weird at first glance, it IS correct!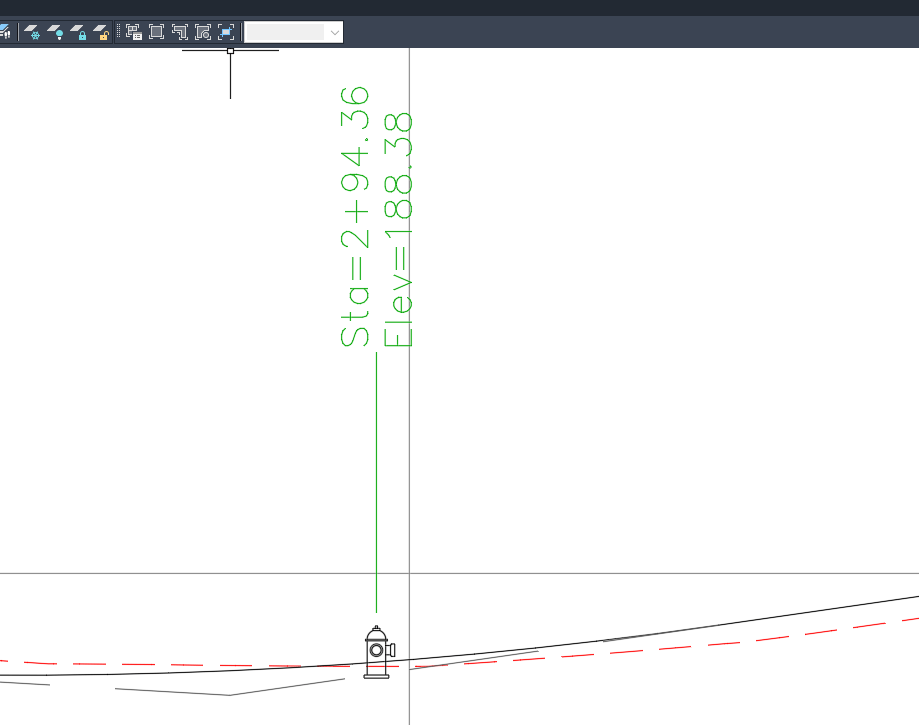 Projected Fire Hydrant
– James Coppinger