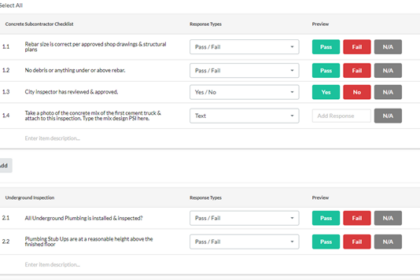 The Inspections Tool in Procore is a very unique tool due to its level of customization when compared to other tools. One useful option is to make a pre-install checklist. A pre-install checklist can be used prior to a concrete pour to ensure rebar is properly inspected & tied, any conduit or piping is properly reinforced and in the correct location, and more. Far too often, paper checklists are still used in the field, causing them to be filled out incorrectly, misplaced, and often times not readily available. This causes these vital forms to not be completed, or completed irregularly.
Making a pre-install checklist inspection form is easy in Procore and much easier compared to making one in Word or another program. It's also easily accessible to everyone within your company.
To start, you will need Admin level permissions on the Forms tool.
Ensure you are at the Company Level and select Inspection under Project Management.
At the top right of Procore, click the + Create button.
The page will load that allows you to add and edit everything within the form. Fill out the top portion of the form to your needs.

Scroll down to the section for Inspection Sections and Items. Here is where you can break out your inspection into categories, trades, and more, as well as add questions to be completed by the trade contractors. Just start typing in the Enter Item Description… and change the response types if needed. Pass/Fail is one of the most common but the capability to change it to Yes/No, Custom Text, and more is available. You can do a quick add to add several questions/statements as well.
Create a reasonable amount of fields for the on-site project team and trade subcontractors to complete.

This auto-saves as you complete the fields so once you are done, you can close it out and go to a project.The next steps are not part of the creation process but for use in the field when creating an inspection and using what was just created.
Go to your inspection tool under a project and create this inspection. Fill in all the required information at the top of the page. Once complete, click Create.
Underneath Inspection Details, click + Add Signature Requests. This will allow each of the trade subcontractors to sign and certify the inspection, as a site superintendent or manager walks around with them. The above example is using just concrete and plumbing. As soon as they complete their section of the inspection, ensure they sign it.

Ensuring all the trade contractors inspect their work prior to a major stage of construction is vital for maintaining the schedule. We've all had projects where one trade subcontractor says the underground is complete for this area but 3 months later it's discovered no underground rough-in was installed or it was installed in the wrong location. Using the pre-install checklist, this could have been stopped and the work done correctly the first time – saving money and time for your company and the client. A few other examples would be Rough-In and Pre-Drywall Inspection, Backfill Inspections, and specialty equipment installation like elevators.