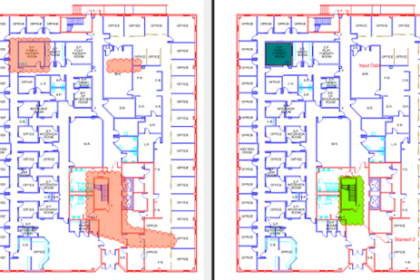 As the AEC industry continues to shift towards digital document management, modern software interfaces like Bluebeam Revu have become essential for managing, collaborating, and sharing large sets of documents. One of the most powerful features of Bluebeam Revu is its "Document Compare" feature, which allows users to quickly and easily identify the differences between two versions of a document.
In this blog, we'll take a closer look at Bluebeam's Document Compare feature, including how it works and why it's valuable for those in the construction industry.
How Does Document Compare Work in Bluebeam Revu?
To use this feature in Bluebeam, users must have two versions of the same document in PDF format. Bluebeam then compares the two documents and highlights any differences in text, images, markups, or formatting.
Here's a step-by-step guide to using the document compare feature in Bluebeam Revu:
Open Bluebeam Revu, navigate to the "Documents" dropdown and click on the "Compare Documents" option.

Select the two PDF documents you want to compare. If your documents are already open in Bluebeam, you will be able to select them from the drop-down menu. You can use the ellipsis button to select the documents from your local drive.

Choose the folder location for your PDF Output. Bluebeam will create a new PDF with the differences highlighted and save it to this location.

Select the "Advanced" option to include markups as well as adjust the properties for highlighted areas that call out the differences. Select OK to compare.

Once the comparison is complete, Bluebeam Revu will highlight any differences between the two documents, making it easy to see what has changed. Users can then review the changes and decide how to proceed (e.g., accepting the changes, rejecting them, or making further revisions).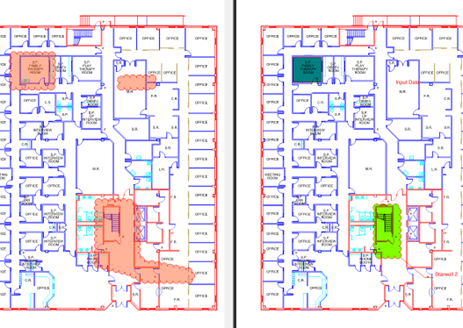 When working on large construction projects, we are often using different versions of the same document which can lead to confusion if your changes are not tracked or communicated properly. By using the document compare feature, teams can track any changes that have been made and ensure that everyone is working from the same set of documents.
It is important to use this feature effectively to get the most out of it. Properly naming and organizing your documents will help to ensure consistency and prevent unwanted mistakes. It is also encouraged that users customize the document compare settings to suit their specific needs.
In conclusion, the document compare feature is just one of many extraordinarily powerful tools within Bluebeam Revu that can be useful for anyone working in the AEC industry!