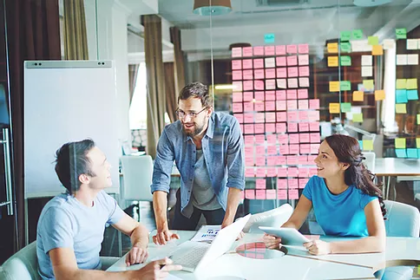 Ever watch the pre-internet generation struggle with the concepts of modern communication? I once watched my Mom write out "to-do" items on yellow Post-It notes and take pictures of them with her phone, so she wouldn't forget what she had to do that day. We all shake our heads and laugh at things like that but it's not really a mistake, it's just people not understanding -or knowing- the tools they already have available. Now, you're reading this and part of you is relieved you're not like my Mom, and those other silly folks who don't understand how to use modern tech. You're much savvier than that, right? Well . . . maybe.
Here's the thing: none of us ever really know, what we don't know. Within our own mind, we're very comfortable with what we do (so was my Mom!) but if you've never been shown a digital task list, or calendar app how would you even know you should be using it?
We are all guilty of this to some extent, even within the workplace. We have dozens of powerful communication and collaboration tools at our fingertips, but most of us either never learn to use them, or just don't know we have them. Office 365 is a perfect example. With over 200 million regular users, it's been suggested that less than 10% of them use more than basic Outlook and limited OneDrive tools. Does that describe you, or your company? It's time to make good use of the collaboration tools you already pay for and stop finding "work arounds" that cost you time and money. Here are Office 365 tools all of us should be working with daily, regardless of what industry we work in:
Microsoft Teams: Integrate email, file sharing, video/desktop conferencing, and all your apps and workflows into a single interface. Teams is meant to be a single touchstone for you to work in all day, accessing the communications, files, and applications you work with every day from one central location
SharePoint Online: The worlds largest, most reliable, and simple to use cloud-based file hosting site is at your fingertips. Instead of emailing files, just share links and you have one single instance of any file, that can be accessed from any system, anytime, anywhere. SharePoint Online even keeps older versions/revisions of your files automatically so you can find what you need without deferring to slow, expensive, backups.
Delve: Tired of trying to remember the name of that file you worked on last week, then browsing for that file on an array of servers and sub-folders? Delve can quickly show, and give direct access to, every file you've worked on. Not only that, but it can show you what your employees and co-worker's have been working on, so you can pick up where they left off and streamline your office workflows.
Office 365 Video: Do you have company training, safety, onboarding or site condition videos? Always struggling to find the correct locations and share those videos with others in your firm and make sure they have software installed to play them? With Video, you can create channels and share videos, with embedded players, right from a secure, searchable, central database your users can access from anywhere in the world
Those are just a few simple examples of the dozens of apps you have in Office 365 to help you improve collaboration and work smarter – not harder.