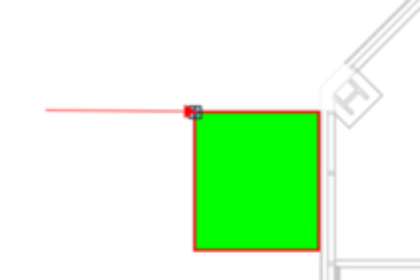 In this blog, we discuss a crucial feature in Bluebeam Revu: Snapping. This tool helps achieve precision and accuracy in marking up PDFs. We will delve into the distinctions between two snapping modes – snapping to content and snapping to markup – aiming to provide you with practical insights for optimizing your workflow.
Before we get into the details, let's clarify what snapping entails. This tool facilitates the precise positioning of markups on your PDF drawings. It ensures that markups align properly with your intended locations, like using a virtual ruler.
Snapping to Content: Aligning with Existing Elements
Snapping to content involves aligning your markups with the content of your PDF, such as lines or shapes. Here are its key advantages:
Accuracy: Snapping to content guarantees alignment with the original elements of your PDF.
Consistency: It maintains uniform positioning across markups, which is crucial for collaboration.
Time Efficiency: Manual adjustments are minimized, allowing more focus on refining work.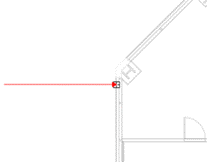 Snapping to Markup: Aligning with Existing Markups
Snapping to markup entails aligning new markups with existing ones. Its benefits are:
Markup Coordination: Snapping to markup ensures that new markups fit well with the existing ones.
Visual Clarity: Markups are arranged coherently, preventing overcrowding.
Comparative Analysis: It helps compare versions effectively by aligning with past markups.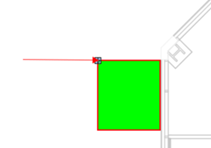 How Do We Use Snapping Tools in Bluebeam?
Snapping in Bluebeam is very simple to do! There is one button to turn on each snapping function and they exist side by side. The buttons are located in the status bar on the bottom of your screen. Make sure the status bar is turned on by locating Tools>Toolbars>Status Bar.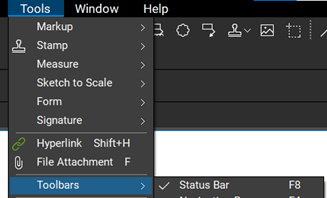 From there you should be able to toggle both snapping functions on and off using the buttons in the status bar highlighted below. You can also hover your mouse over each button which will indicate which snapping function you are about to use.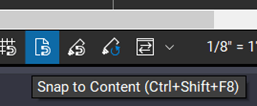 And there you have it! Bluebeam's snapping tools are vital for precision. Choose the mode that suits your workflow: snapping to content for accurate alignment with original PDF elements or snapping to markup for accurate alignment with existing markups. Utilize the steps above to employ these snapping tools effectively in Bluebeam, enhancing your projects' accuracy and efficiency.