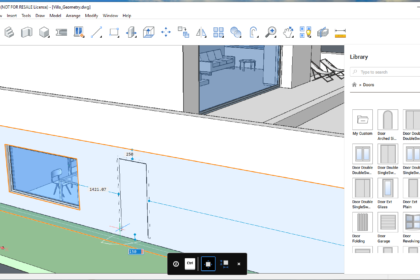 Look, I get it: SketchUp is free and for a lot of us, we just want to do quick 3D models for presentation or rough layout, so it seems like the way to go. The problem is, SketchUp is a dead-end street. It doesn't play well with other CAD systems and it works with a proprietary file type. In other words, anything you create in SketchUp needs to be re-created from scratch in your CAD system. That means at least doubling your work!
I have a better alternative for you: BricsCAD Shape. And yes, before you ask, it's also free!
BricsCAD Shape is a better 3D modeler for many reasons but the biggest is that it uses the industry-standard DWG files as its native file type. That means you can just open them in your CAD system once you're done with your 3D layout. That's a huge boost to productivity right there. There's a lot more though. BricsCAD Shape is a lite version of BricsCAD BIM, which is the fastest growing and most user-friendly BIM tool on the market. That means that all the 3D modeling like doors, windows, dimensioning, etc., that you work with in Shape is already formatted and ready for BIM data, without you needing to do a thing.
BricsCAD Shape is the perfect intro to the world of BIM. It works faster and easier than Sketchup, or any other modeling system out there, and once you've completed your layout, all the work you've done can be opened in BricsCAD BIM and converted to a fully-developed BIM model, with the click of one button.
BricsCAD Shape comes with a full suite of tools for actual construction and design projects, like "Quickdraw". Quickdraw is a tool that lets you sketch out rooms to specific sizes, and Shape will automatically add a slab and walls of the thickness you specify. It will even automatically align rooms and create "Cut-ins" for closets and sub-rooms.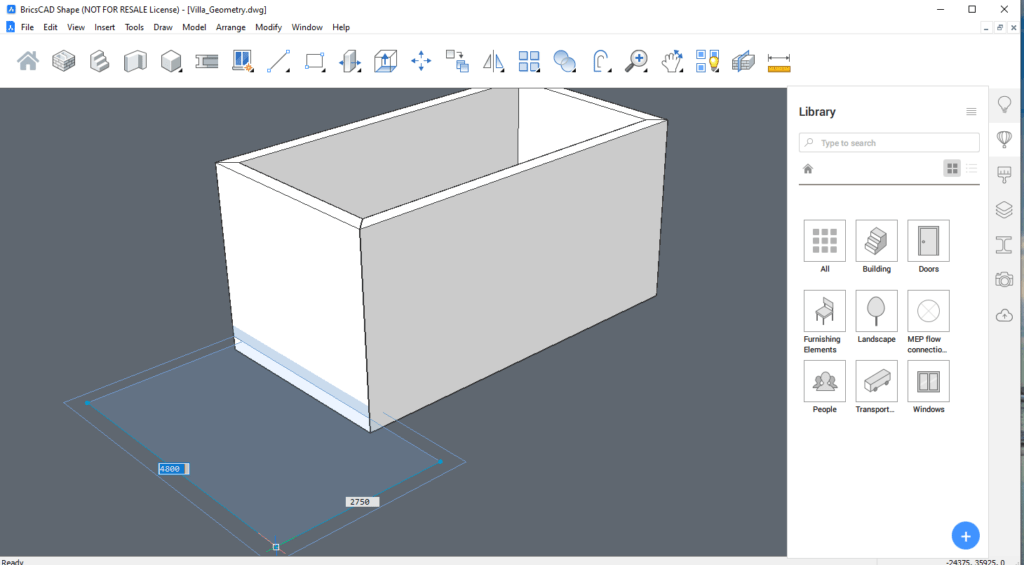 The Quickdraw Tool
BricsCAD Shape also includes a whole library of design/build components for use in your model. Everything from doors and windows you can just drop in place on your walls, to people and landscaping. Shape even includes a library of rendering materials, so you can create the presentations you want to communicate your ideas, right inside Shape in just a few minutes.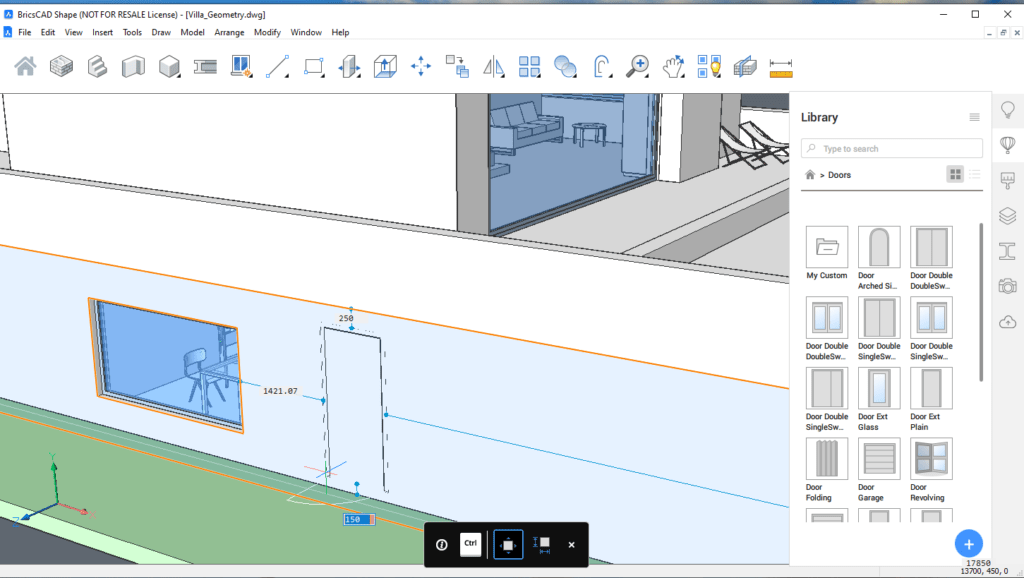 Placing a Door in Shape
Can you tell I'm a fan of Shape?
Look, one of the things I spend a lot of time doing is helping design and construction professionals get comfortable in the BIM world. I run up against a lot of folks who just think it's too complex, too expensive, and too time consuming to get involved with tools like Autodesk® Revit® and they're right. 3D design and BIM can be great tools, but those massive design systems aren't right for everyone, or for every job. People need a way to comfortably make their way into the BIM environment and use only the 3D and data tools that they need for their project. That's why a lot of us turned to SketchUp in the first place, but it's not the savior we hoped it would be. Sure, it's starts out free but to get any useful tools, you need to pay an annual fee. Oh, and you can only use their proprietary file format. Oh, and no, it doesn't import well into major CAD systems. Oh, and no the SketchUp models can't be converted to BIM easily . . .
Get the picture?
BricsCAD Shape is one package that's completely free. It has the same tools you would use for design in the BricsCAD BIM system, so you learn how to handle true BIM design as you do the initial layout and everything you create is BIM ready. There really is no better way to start training yourself and making the move to BIM than through BricsCAD Shape. Easy modeling, full component libraries, rendering materials and capabilities, and all in a DWG file that can be opened by any CAD system. It's free and it's brilliant! Do yourself a favor and download BricsCAD Shape today. Just click here to get your own copy and begin your BIM journey.
 –  James Coppinger