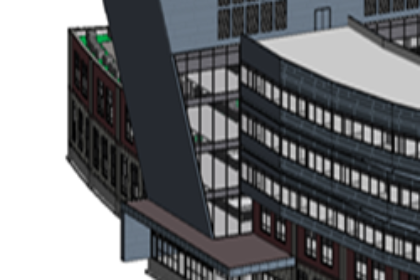 It is that time of year again! If you are keeping score, Revit 2021 was released at the beginning of April. While some of the features were released in the 2020.2 update for subscription customers, there are quite a few new features to highlight in the 2021 release.
Generative Design has become an industry trend that pushes the boundaries of creativity and throws technology into the throes of computational design. With Revit 2021, users now hold the power of Generative Design at their fingertips. A new Generative Design panel has been added to the Manage tab. Use of Generative Design tools is only available to subscription customers of the Architecture, Engineering & Construction (AEC) collection. With a few inputs and constraints, Revit rapidly generates design alternatives and allows the user to evaluate scenarios to meet design goals.
A significant addition to Revit 2021 is the ability to create Slanted Walls. Create a vertical wall and on the Properties dialog box, find the Cross Section instance parameter and click Slanted. Add the wall angle to the Angle from Vertical parameter. Windows and doors can be hosted in slanted walls.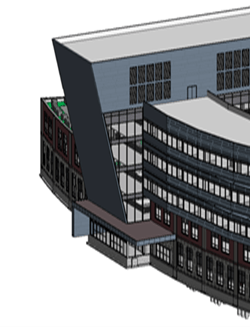 A carry over from the subscription release of 2020.2 and now in the 2021 release are improvements to Schedules. Zooming in and out of large schedules enables the user to view parameters with ease. The ability to stripe alternate rows adds to the clarity of viewing schedules. In Revit 2021, the user can now select custom colors for the stripes. You can find this feature in the Schedule Properties, Appearance tab.
A few other handy features include the ability to set Tag rotation to Rotate with Component, as well as rotating Section Heads using the Rotate Text with Component parameter. Families have an improvement in a parameter added to Void objects. The Cuts Geometry parameter permits the void to cut intersecting geometry of the host. This is helpful when creating complex geometric shapes with Voids.
On the Structural side, improvements continue to be made to Rebar. New Standard 3D rebar shapes have been added as well as additional controls for hook length adjustments. For circular concrete structures, users can add rebar couplers to connect tangent arc-shaped bars. In addition, end treatments for any rebar in the project can be specified without having to add rebar coupler connections.

For MEP, there are several international improvements for naming electrical circuits and supporting single-phase two-wire L-N panelboards. Circuit naming schemes can be created in the Electrical Settings dialog box. Circuits in a switchboard panel schedule can be moved to a different phase by selecting Switch Phases with the circuit selected. Switchboards also have a new Max Number of Circuits parameter which replaces the previous Max Number of #1 Pole Breakers. Max Number of #1 Pole Breakers has been renamed to Max Number of Single Pole Breakers. It's the little things!
These are just the highlights of the new features and improvements in Revit 2021.