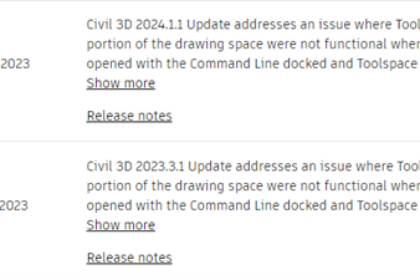 Applying updates and hotfixes is an important part of staying productive. There are a couple that have been made available recently for AutoCAD Civil 3D that may interest you.
If you have experienced the issue that happens when your command line is docked and your Civil 3D Toolspace is anchored and collapsed, you were probably quite perplexed after opening Civil 3D 2023.3 or 2024.1 to find that half of your screen was being blocked by an invisible mass keeping you from making selection in your drawing; also, the Toolspace was strangely mounted in the corner of the screen in a dysfunctional state. The only fix was to restore your profile settings back to default and not dock your tools in such a manner anymore.
You will find a fix for that via Autodesk Access as well as in the Updates section of the Civil 3D product page in your Autodesk account.

Also, if you have missed having the Civil Engineering Data Translator after moving to 2023 or 2024, you will also find this up in your Autodesk account in the Extensions section of the Civil 3D product page. This tool facilitates the translation of design data between Civil 3D and Bentley products (with the exception of Open Roads Designer).

So, do install these tools or get your request in to your IT department to do so. Keeping your software up to date is a worthwhile commitment in the long run.