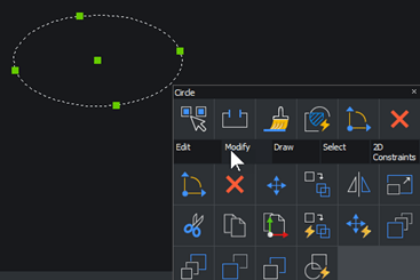 If you are in the industry, you may have heard of BricsCAD when researching software, downloading plugins or updates, etc. The only thing you may know about BricsCAD is that it's an alternate tool for CAD work, but do not confuse it with other packages that are truly inferior and perform as cheaply as their price tags imply.
Being an Autodesk Zealot for decades, an author of a series of books that evangelizes Autodesk software, and a career implementor of Autodesk products, I was skeptical when asked to look at BricsCAD for a lot of reasons. Typically, CAD alternatives (other than the mighty MicroStation) have offered nothing more sophisticated than AutoCAD.
BricsCAD is a remarkable CAD application that measures up to AutoCAD in so many ways that anyone who has a history with AutoCAD, would be able to adopt BricsCAD without losing any productivity. But not only can BricsCAD stand toe to toe with AutoCAD functionality-wise, it never misses a chance to think out of the box giving us unique and special tools.
Blockify – Takes a selection of entities, searches the drawing for more like it, searches the block library for a matching definition, then replaces the entities either with the defined block or a newly defined block. Watch this video to learn more.
Copy Guided or Move Guided – Takes a selection of entities and copies/moves it along things that will serve as guide objects, kind of like using the divide or measure commands (which BricsCAD does have), but the guide object(s) can be multiple objects and the entities copied or moved don't have to be blocks. Watch this video to learn more.

Manipulator – imagine if AutoCAD's Gizmo tool worked on 2D objects (more than one) without a certain visual style being current. When the manipulator is turned on, you get a gizmo like tool appearing that allows you to rotate, stretch or move a selection set. Watch this video to learn more.

Quad Tool – Takes the right-click menu to supersonic levels, offering ribbon functionality that follows your cursor around your drawing. Watch this video to learn more.

After opening BricsCAD if you compare the ribbons, it looks like AutoCAD.
BricsCAD:

AutoCAD:

As a matter of fact, the commands feel the same. The move, copy, rotate, scale, stretch, mirror, and fillet commands prompt us for information as AutoCAD does. BricsCAD has layers, blocks, dimension styles, text styles, and table styles. If you use the default keyboard aliases in AutoCAD, you will initiate the same commands in BricsCAD. It references XREFs, images, PDFs, and point clouds. BricsCAD also runs LISP and recognizes AEC objects.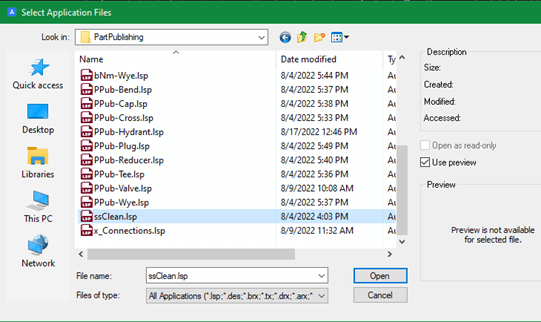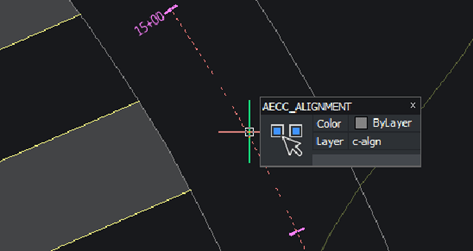 And just about any other thing you'd want to do in CAD, there are thousands of partner applications to choose from to help you get there.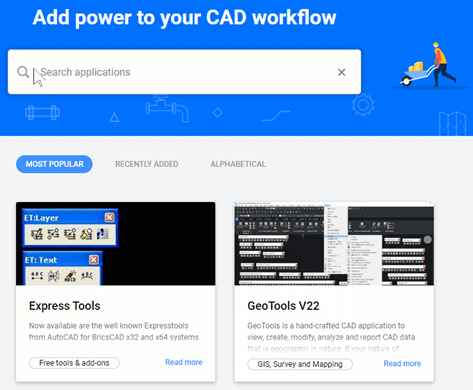 What I particularly like about it, is that BricsCAD has taken the opportunity to serve up a lot of the items we take for granted in AutoCAD in a new, revitalized way.
Panel Configuration
Let's take into consideration the AutoCAD tool palettes. It was great when we got to the point with AutoCAD where we could keep dialogs open while working in the drawing window, even placing them on adjacent monitors and stretching them to custom sizes to stay productive; or even docking them to any side of the application window to a minimized state. These interface items are called panels in BricsCAD. Panels can stack on a toolbar as icons. The toolbar can be docked on any side of the application. Once an icon representing a panel tool is selected, by default the panel expands out into the drawing area so you can interface with it; it doesn't "hide" itself until you tell it to.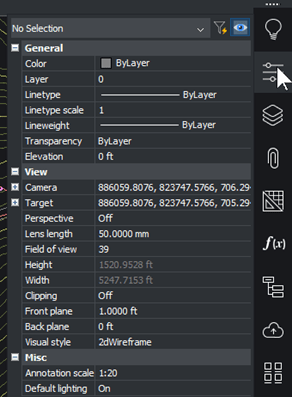 Customization of User Interface
If you type "CUI" on the command line in BricsCAD, the Customize dialog will open, but it is a bit different than dealing with the Customize User Interface dialog in AutoCAD. This dialog will allow you to intuitively configure any aspect about the user interface and save it out as a CUI file, not a CUIx file. That includes not only workspaces, but command aliases, mouse customization, and keyboard shortcuts. The configuration areas are delineated as tabs and application categories, so it is very easy to navigate the interface in this manner.
Configuring BricsCAD for the CAD Administrator or the Uber-level user makes a lot more sense in BricsCAD. Every setting needing attention can be reached in two dialogs: Settings for environment variables and settings, and Drawing Explorer for template styles and settings.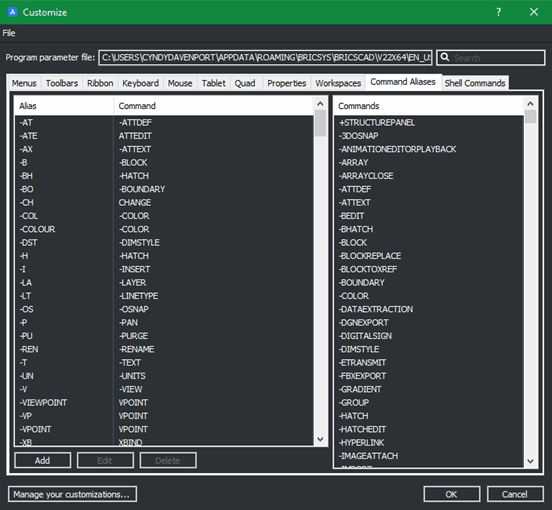 The Settings Dialog
This dialog consolidates environment-based settings and drawing variables into one interface, which is categorized in an easy to browse format. There is a search field at the top so you could find any setting needed if you forgot the exact name of the variable. This interface includes all the configurations found in the AutoCAD options dialog including the paths set on the files tab. This is a one-stop shop for setting all variables and environment configurations.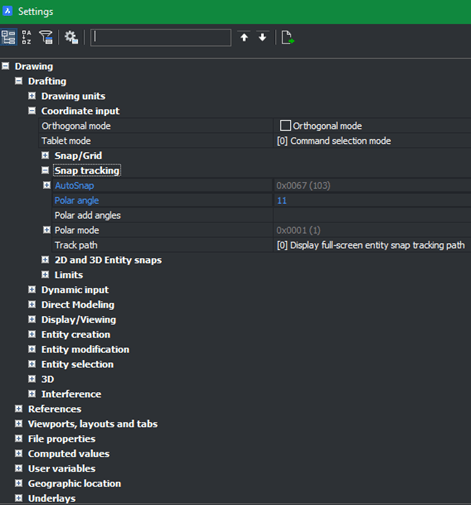 Drawing Explorer
This dialog consolidates all drawing-based settings like layers, linetypes, styles, blocks, and page setups to name a few. It's a one-stop shop for template configuration.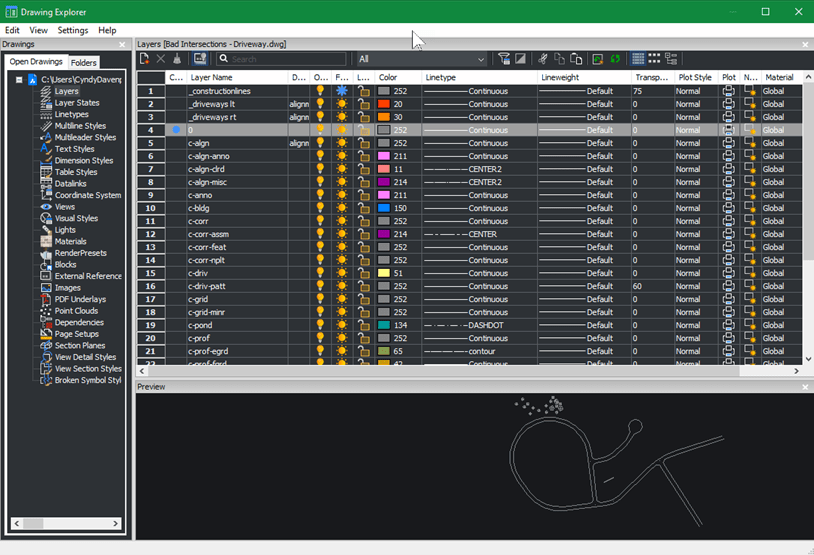 BricsCAD is very easy to set up and configure for any CAD jockey who is familiar with AutoCAD, or any Uber Guru who wants to expedite his/her efforts. The interface provided makes the setup quick and easy. The application itself has pounded the learning curve between switching from AutoCAD to BricsCAD down to be flat as a pancake. Change management required when implementing is minimal and doesn't require any special skills beyond being familiar with AutoCAD when advertising for new employees. But if anything in this post isn't compelling enough, know that BricsCAD is much more affordable for startups. Also, it can be licensed in a manner that doesn't require the internet and can be managed by a license server if so desired. It works natively with DWG, DWTs, ARGs, LSPs, and other traditional AutoCAD formats. With all of this under consideration, BricsCAD is a major contender in the CAD market for your business.
But don't take our word for it, try it out yourself.
 – Cyndy Davenport