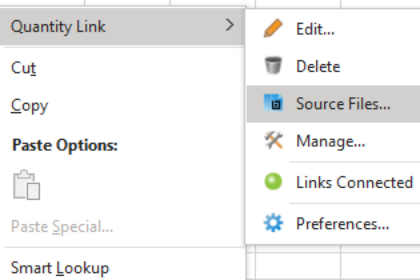 I've done a lot of presentations and videos on the Quantity Link plugin for Excel (catch a few here, on our YouTube channel). This tool lets you connect your workbooks directly to PDFs in Bluebeam Revu and have it return values right from the graphics in Bluebeam Revu. In other words – change the length of a line in Bluebeam Revu and the length value updates immediately in Excel, re-calculating all your costs, etc. instantly. This has a lot of appeal for folks who've spent years developing a detailed Excel workbook with formulas, VLOOKUPs, and links to pricing databases, etc. People jump at this functionality, only to call me a week or two later when they hit a giant wall of frustration on how to make it actually work.
The issue is that for this process to be effective, you can't do it on a project-by-project, or ad-hoc basis. You need to develop a pre-defined set of consistent tools for your estimating, and then use Quantity Link tools to connect to those. Think of it like this: how many thousands of linear takeoff items are there on a mechanical estimate for a multi-story hotel? Imagine having to create a manual link in Excel for each one of those! It would take days, and chew up any time you might have hoped to save by not manually entering numbers into your workbook, right? That's where a pre-defined set of tools comes into play. You can create a "Master PDF" document that has all your tools and link it to a "Master Workbook" in Excel. Now, when we add in the linear takeoffs for our imaginary hotel, they instantly appear in the Master Workbook. The question is: how do we handle this for all projects?
It's very easy actually, just copy the Master Workbook to your new project, rename it, and right-click on any cell, then go to QUANTITY LINK > SOURCE FILES (see below) and BROWSE to the location of your project PDF files.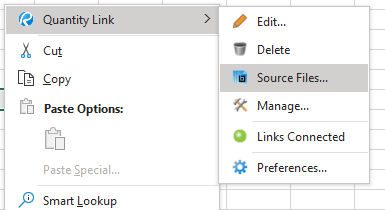 Just use the ADD button to select all the PDF's in your job as the Source Files and when you use your pre-defined tool set to do the takeoff, all your values are automatically added/updated within your Excel workbook. How's that for easy?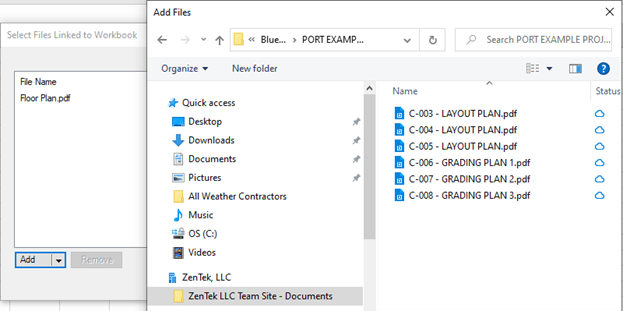 It all comes down to developing good tool sets, which is something we specialize in here at ZenTek. Just click here for how to get started with our Bluebeam Revu Custom Tools Kickstart program!
– James Coppinger